Food Creative Lab aims to inherit food culture
"CLUB RED" is a community of gathering young chefs who have achieved excellent results in "RED U -35" and successive judges, and it has been engaged in various activities as a food creative laboratory. Since September 2020, as part of the "Japan Cultural Expo" sponsored by the Agency for Cultural Affairs and the Japan Art and Culture Foundation, a project has been underway to promote the charms of local cuisine under the title of "Japan Cultural Expo x CLUB RED Travel Dining Japan in Tohoku". This time, we will report the results of the project over the past six months.
What is local cuisine of Japan?
The Japanese archipelago, which stretches north and south, has a rich sea area where warm and cold currents meet, and is rich in seafood. Mountains and fields are also blessed with soil that nurtures the blessings of nature, such as rice, vegetables, edible wild plants and mushrooms. With such a climate as a background, "Local Cuisine"  is the fruition of unique food and cooking methods in the area took a long time to be developed as a culture. However, in the modern age when food is imported from all over the world, it is not rare that many imported ingredients are used for the menu of Ichijusansai (dishes with one soup and three side dishes) which looks like Washoku at a glance. In addition, due to the development of the food service industry, opportunities to cook at home have decreased and traditional preservation techniques and cooking methods are being forgotten.
 Against the background of this situation, this project was created in order to pass on to the next generation "Local cuisine" filled with the wisdom of traditional food. Since the Tohoku area, including Tsuruoka City in Yamagata Prefecture, which was chosen as the first stage of the festival, always lied side by side with poor crops due to severe cold, local cuisine have been passed down to the present day to preserve precious crops and prepare for winter. The six elite members of CLUB RED from Tohoku and neighboring areas have been assigned a big role for rediscovering that culture and passing it on to the future. In addition, three young local chefs (as below) participated as supporting members.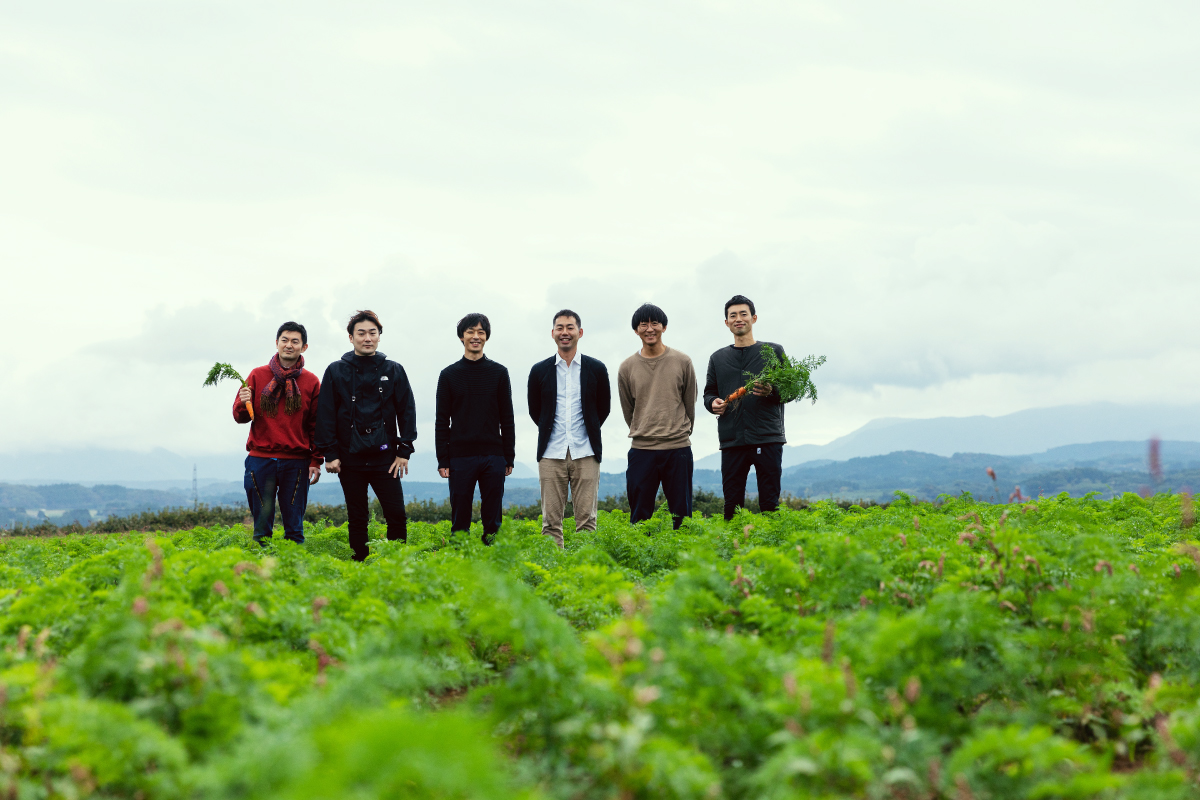 Introduction of Participating Members

Special team of elite six members of CLUB RED
・Yohei Narita(From Hirosaki city, Aomori/Japanese Cuisine/Kikunoi Honten<Kyoto>)
・Kenya Sakai (From Kuroishi city, Aomori/Japanese Cuisine/Kenya<Kyoto>)
・Mikio Sugata(From Tono city, Iwate/Italian/Onohizume<Iwate>)
・Hikaru Hayakawa(From Kazuno city, Akita/Italian/XEX Tokyo Salvatore Cuomo Bros. <Tokyo>)
・Takuto Hirokawa(From Shibata city, Niigata/French/East Gallery<Tokyo>)
・Hiraku Fukushima(From Yonezawa city, Yamagata/Chinese/chinois Renpo<Saitama>)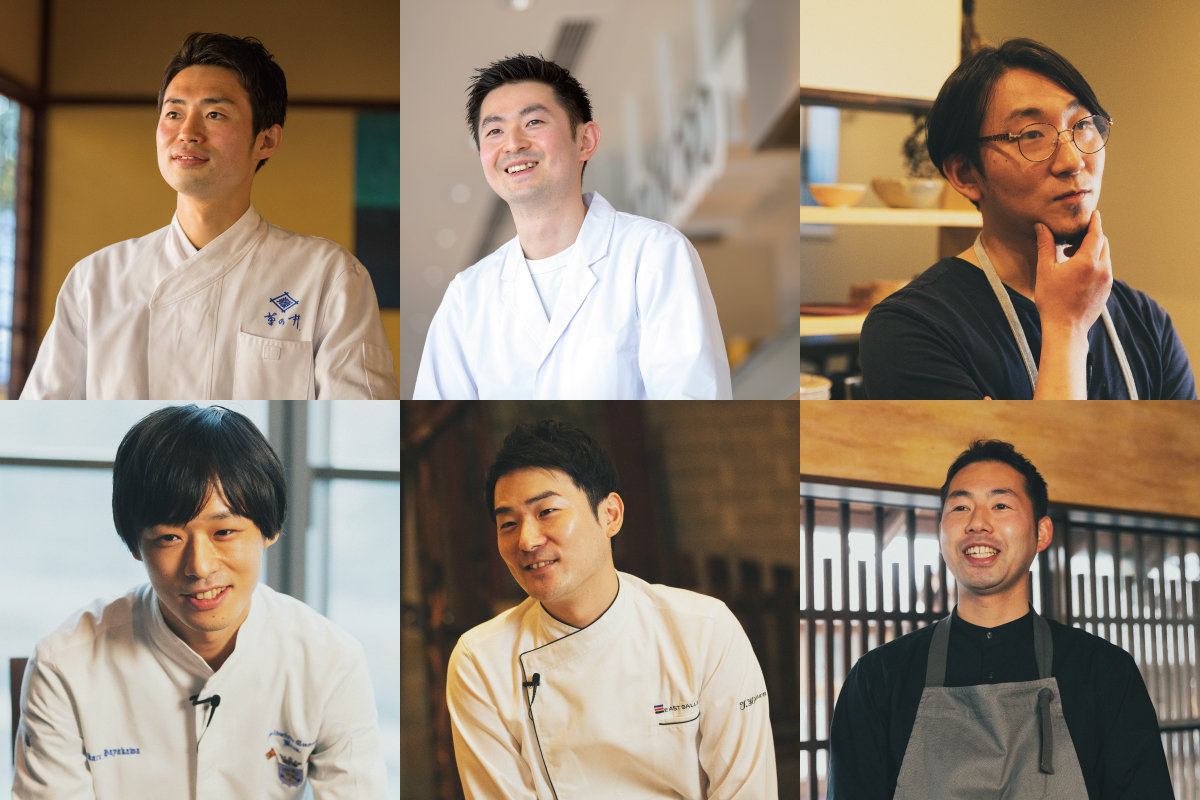 Supporting member of three young chefs from Tsuruoka
・Shota Saito(From Tsuruoka, Yamagata/Japanese Cuisine/Shōnai Zakko<Tsuruoka>)
・Kimitoshi Arisaka(From Kakunodatemachi (Now: Semboku city), Akita/French/Pomme de Terre<Tsuruoka>)
・Yoshinori Igarashi(From Tsuruoka, Yamagata/Italian/blanc blanc gastropub<Tsuruoka>
※Chefs' hometown, speciality and restaurant <area> are shown in parentheses


Young chefs learn about food culture and update "Local Cuisine"

 In September 2020, the project started with a lecture on the culture of local cuisine. The lecturer was Mr. Isao, Kumakura, director of MIHO MUSEUM, a professor emeritus at National Museum of Ethnology, who contributed in registering Washoku to the UNESCO Intangible Cultural Heritage. Mr. Kumakura points out that while it is important to tell stories about how local ingredients and customs came to fruition as local cuisine, the culture of eating such dishes is disappearing today.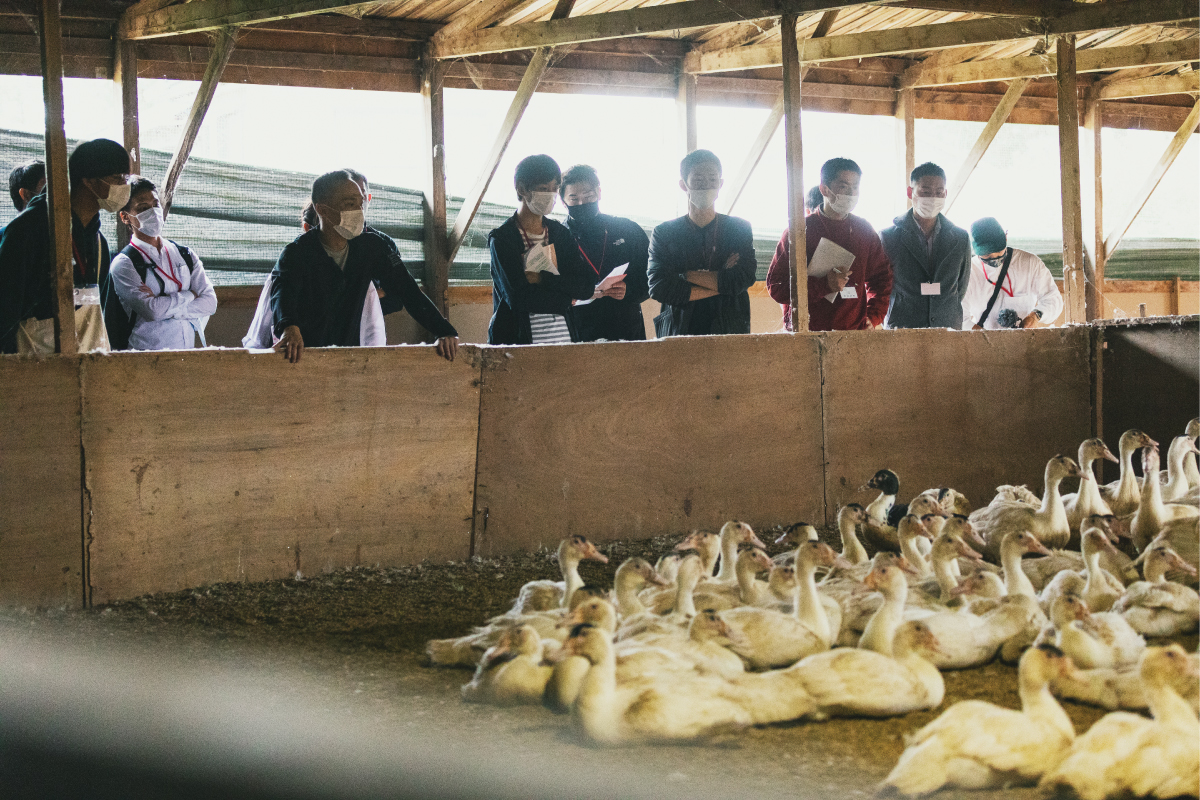 In October, the young chefs visited Tsuruoka, Yamagata Prefecture, for two days. They visited farm producers and chefs to learn about local ingredients and cooking techniques. They also tasted Shojin Ryori (Buddhist cuisine), and saw specific examples of local cuisine, which has been handed down in Dewa Sanzan Shrine Haguroyama Sanrousho Saikan, a sacred place for mountain worship.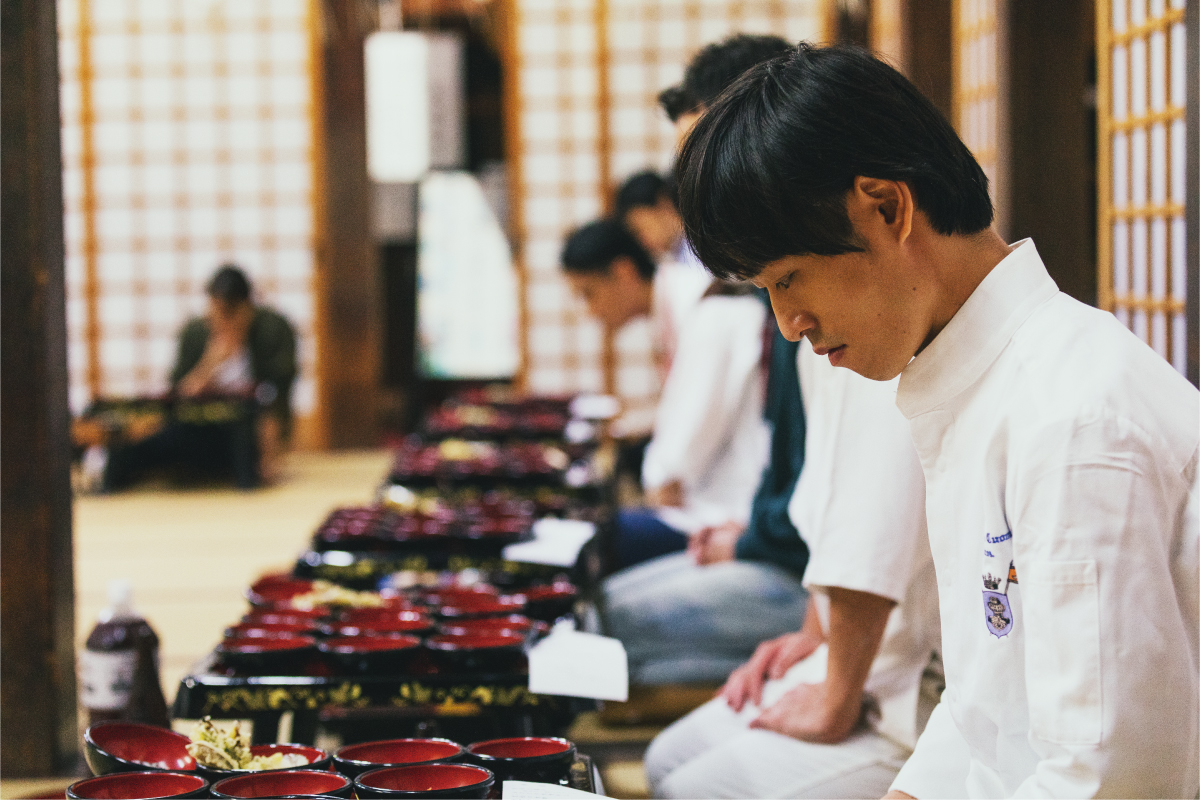 Young chefs who have deepened their knowledge through the experiences, have produced a course of local cuisine that will pass on to the next generation. It was to be enjoyed by the public at the "Japan Cultural Expo x CLUB RED Travel Dining Japan in Tohoku" scheduled to be held on February 27, 2021. However, the event was cancelled due to the spread of the coronavirus (COVID-19). They even held a food tasting to prepare for the event, but unfortunately, they lost the opportunity to present. Still young chefs keep their eyes on the future and devote themselves to study. What did they learn and feel about the project? Later, we asked their thoughts.
Comments of  six chefs from CLUB RED + three chefs from Tsuruoka
A virtuous cycle of brilliant ideas. 
The Project Leader 
Mr. Yohei Narita 
Created Dish : "Kandara Uzumi Tofu Wan" 
"All the chefs are enthusiastic. There was unsurprisingly a virtuous cycle in which ideas came out as soon as we had a meeting and they naturally came together in a good shape. As for the course meals, I focused that the event site was Dewa Miyama Shrine Haguroyama Sanrousho Saikan, a sacred place for mountain worship in Tsuruoka. In Dewa Sanzan, the past, the present and the future meanings are assigned to three mountains, and the belief has been passed down to those who have visited all the mountains can be exorcized and reborn.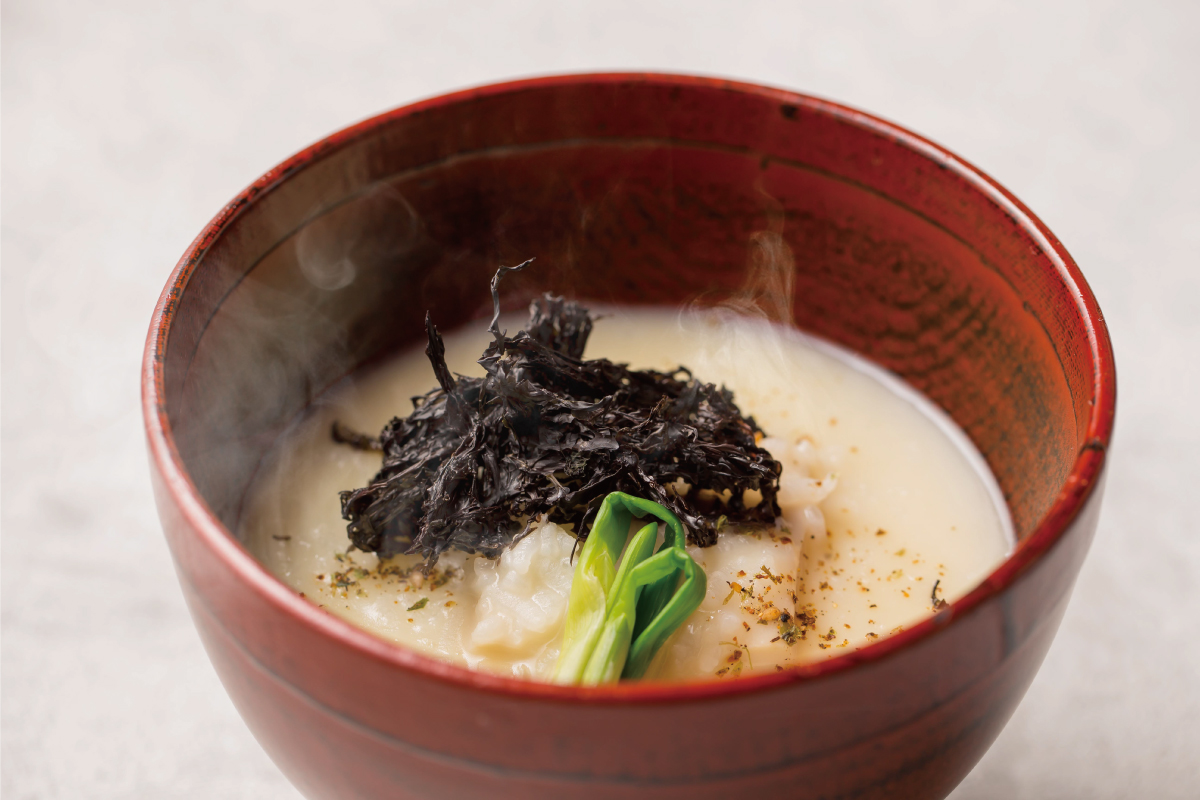 Based on this belief, the main theme was to create a course that have a view the future of local cuisine while learning about ancient local cuisine and making full use of current cooking techniques. I personally came up with a warm Wan (bowl), focusing on the snowy season in February when events are held. It was inspired by the Yamagata local cuisine "Dongarajiru", which uses winter cod, a precious source of nutrition for Tohoku in winter, to the bones and guts. I will continue to create eco-friendly local cuisine that will lead to the future by making traditional ingredients and preservation methods in a modern way."
Spreading dishes that are natural and rooted in the local. 
Mr. Kenya Sakai 
Created Dish : "Waiting for Spring" 
"As a chef in Kyoto, I feel that there are many gorgeous dishes in Kyoto, a place where the best ingredients from all over Japan come together.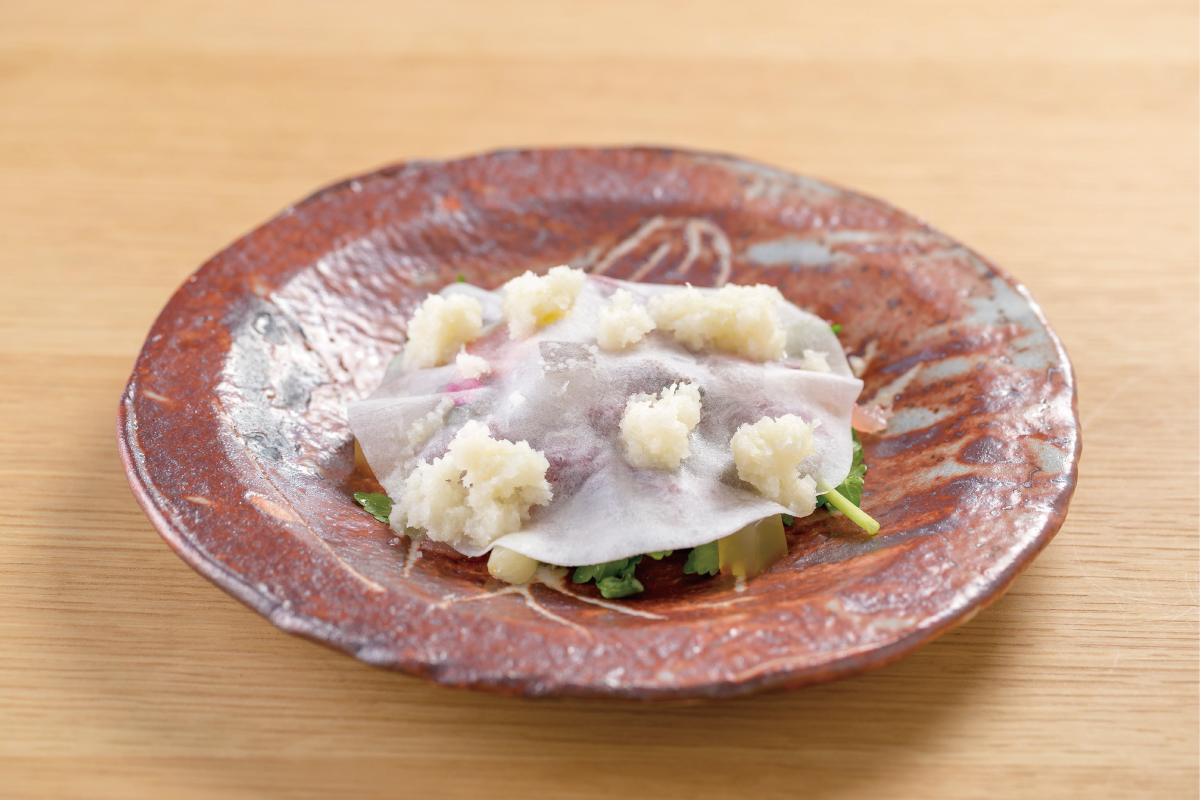 On the other hand, the local cuisine is mainly made with local ingredients and cooking methods that are established in the area, in a natural style. I used sherbet made from Hoya turnips, a local vegetable of Tsuruoka City, Yamagata, as snow, and used carp as the main ingredient waiting for spring underneath. The wild grass on the side expresses anticipation for spring. I will use what I have learned from this project to present dishes that are natural and rooted in the local area. "
Hope to find a local cuisine that is suitable for modern age. 
Mr. Hiraku Fukushima
Created Dish : "Chinese Imoni Shonai style"
Among the chefs of the same generation who gathered this time, there were many things that I could sympathize with about the idea of valuing customers, regardless of the genre of dish and the work environment.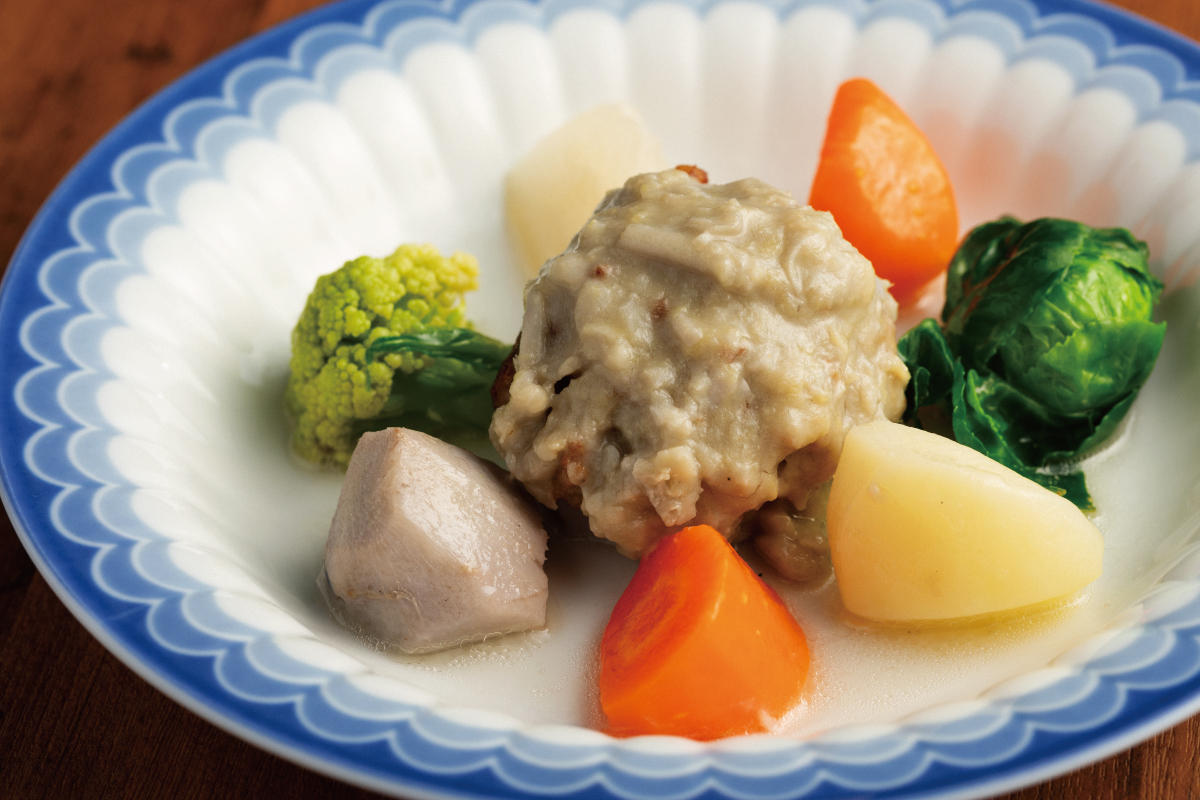 I prepared a plate of Imoni, which is a local dish of Yamagata, in Chinese style. Through this project, I felt that in order to pass on local cuisine to the next generation, it is necessary to make it into a suitable form for a modern age while deeply understanding the culture. I will continue to work with this in mind."
Reaffirming the importance of the extra effort. 
Mr. Hikaru Hayakawa
Created dish: "Wild boar and Shonai wheat Pici  Hippari Udon Italian style"
"It is said that food is readily available these days, but I thought that the essence of food lies in the local cuisine that is prepared with time and effort, such as fermenting the ingredients. I want to convey the importance of extra effort as a chef.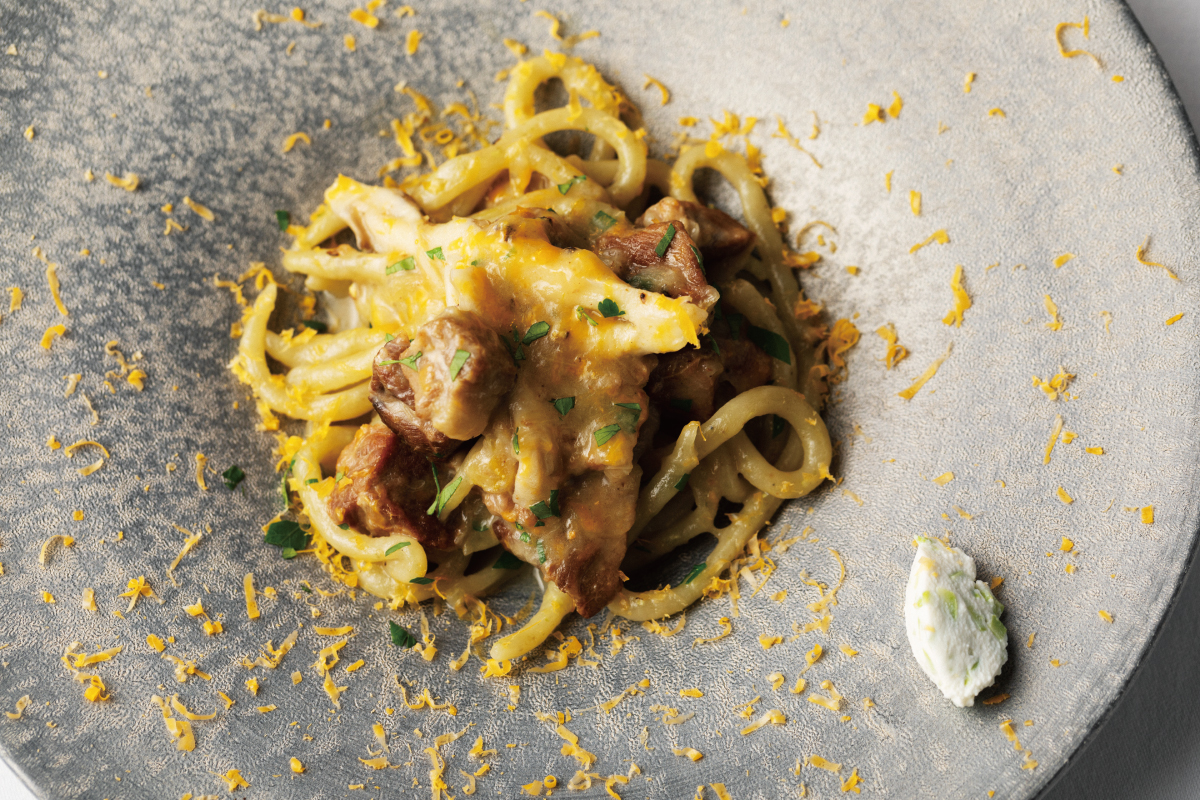 I made a Toscana pasta called Pici that is very similar to the local dish of Yamagata "Hippari Udon" with Shonai wheat. I am also conscious of the effective use of wild boars as food, which have become a problem as harmful animals. I want to participate in projects like this as many times as I can. "
A future goal is to deepen the understanding of the six Tohoku prefectures. 
Mr. Takuto Hirokawa
Created dish: "Cherry salmon mie cuit Fukinoto Tapenade"
"There were many things I didn't know about the unique ingredients and culture of Tsuruoka, so I wanted to visit all six prefectures in Tohoku and deepen my understanding.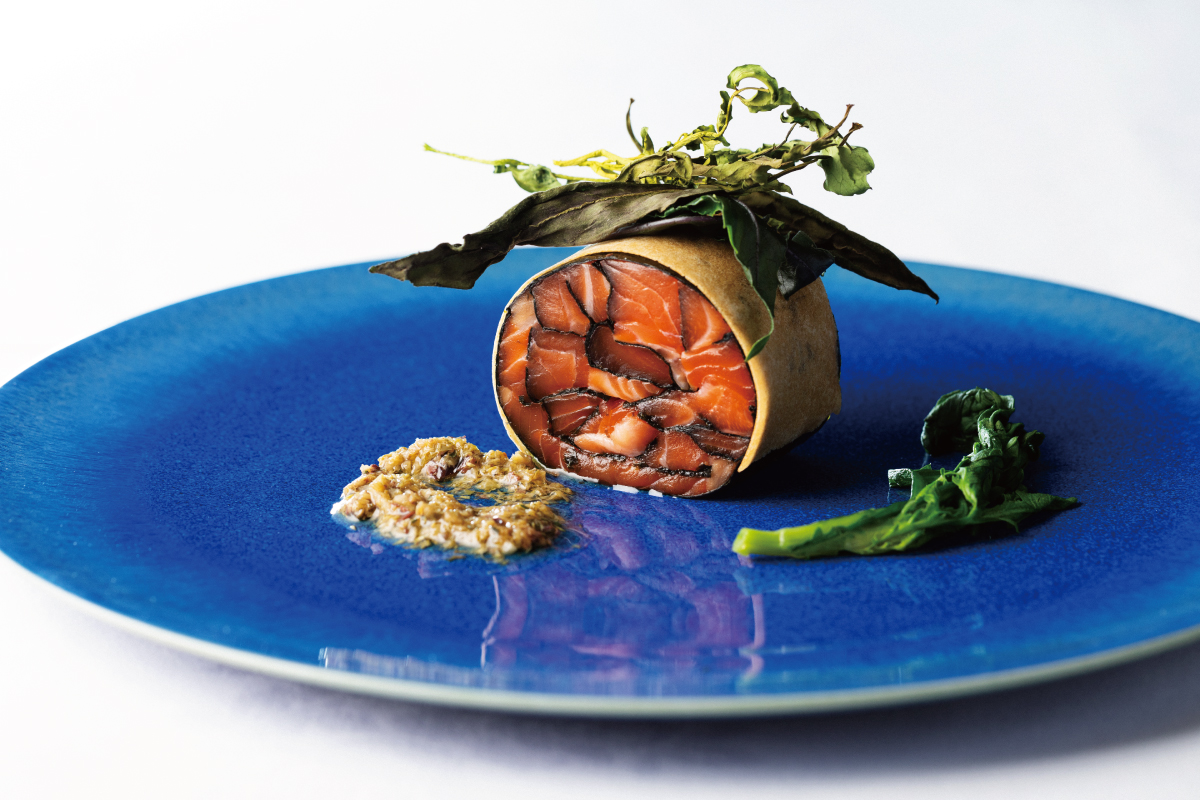 I came up with the idea of a dish to use the prefectural fish of Yamagata "cherry salmon" and marinated with herbs and then deep fried with kelp and seaweed wrapped in a thin dough called Pate brick. The concept is to express the nature and smell of Yamagata. It was under the situation of coronavirus but I could exchange information with members frequently via ZOOM, therefore I was able to build a very good relationship. I will continue to work hard together."
I want to keep thinking about what I can leave for the next generation. 
Mr. Mikio Sugata
Created dish: "The smell of mountain and shape of duck" 
"The salt preserved culture was especially impressive in Tsuruoka. I assume that the use of salt for food preservation, which was valuable back then, is a sign that Tsuruoka was a richer place than other areas in Tohoku.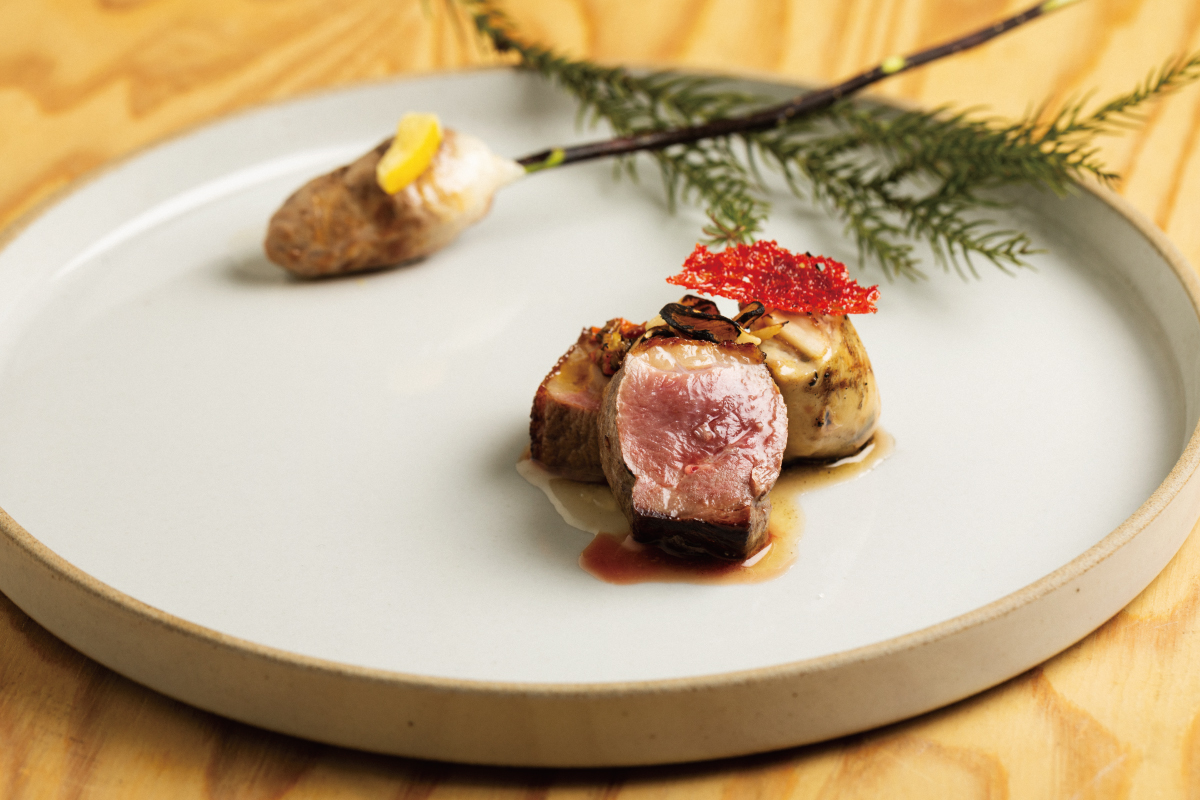 In the course meal, I used duck meat, which was fed rice from Yamagata, and smoked it with rice straw, then it was combined with sake from Yamagata which was fermented with acetic acid. From this experience, I realized the importance of passing on the culture that our ancestors had nurtured to the next generation. What can I leave for the next generation? I will continue to think about that."
Theme is to convey the culture of Tsuruoka. 
Three young chefs from Tsuruoka city. 
Mr. Shota Saito  Created dessert : "A new Sasamaki"
Mr. Kimitoshi Arisaka Created dessert : "Yuzu dressed Shonai Sashiko"
Mr. Yoshinori Igarashi Created dessert : "Sakuramochi recreation Sakura Ritz au lait"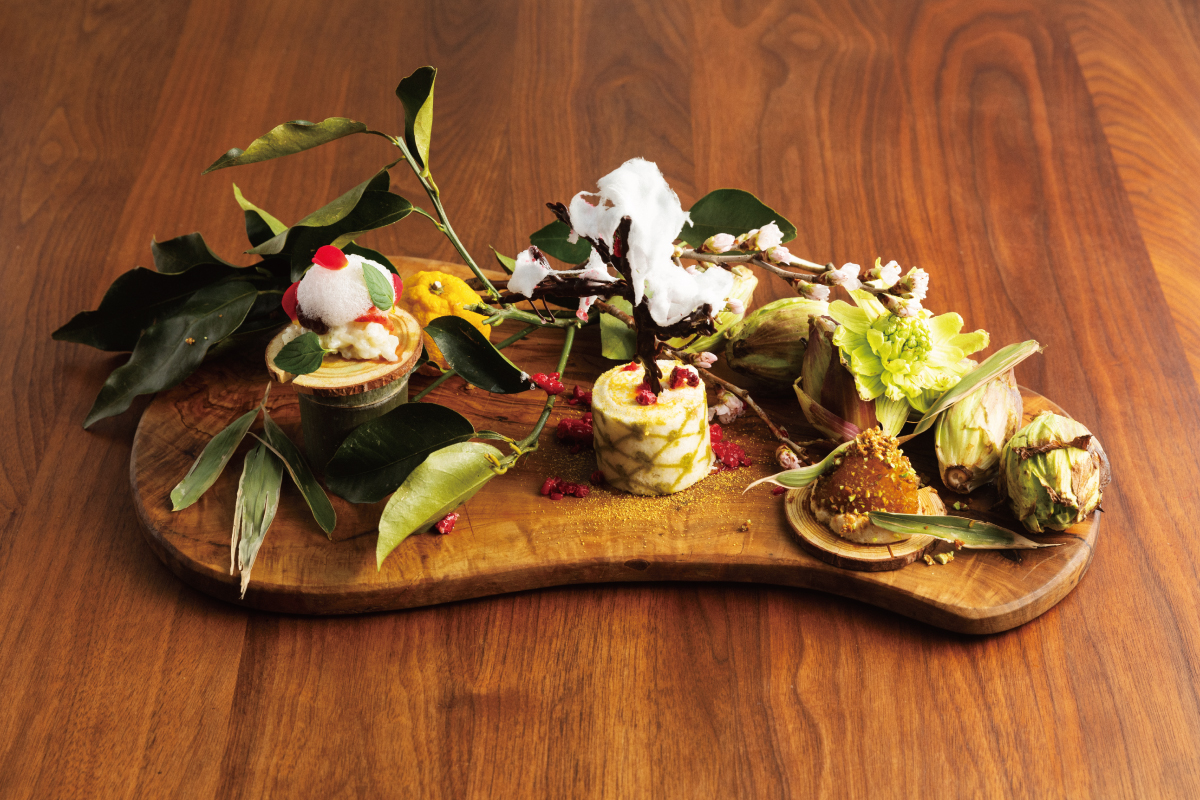 All three of us focused on conveying Tsuruoka's culture and we titled the entire dessert "Circle, Bequeath". My idea was based on Sasamaki in Tsuruoka. In Shonai area, there is a unique culture of cooking sticky rice with lye water. Tsuruoka in particular, has characteristic of making yellow sticky rice which is excellent preservability and bactericidal properties. It was a big gain to be able to share skills and ideas with the members of CLUB RED who are improving their skills away from their hometowns in Tohoku. " (Mr. Shota Saito)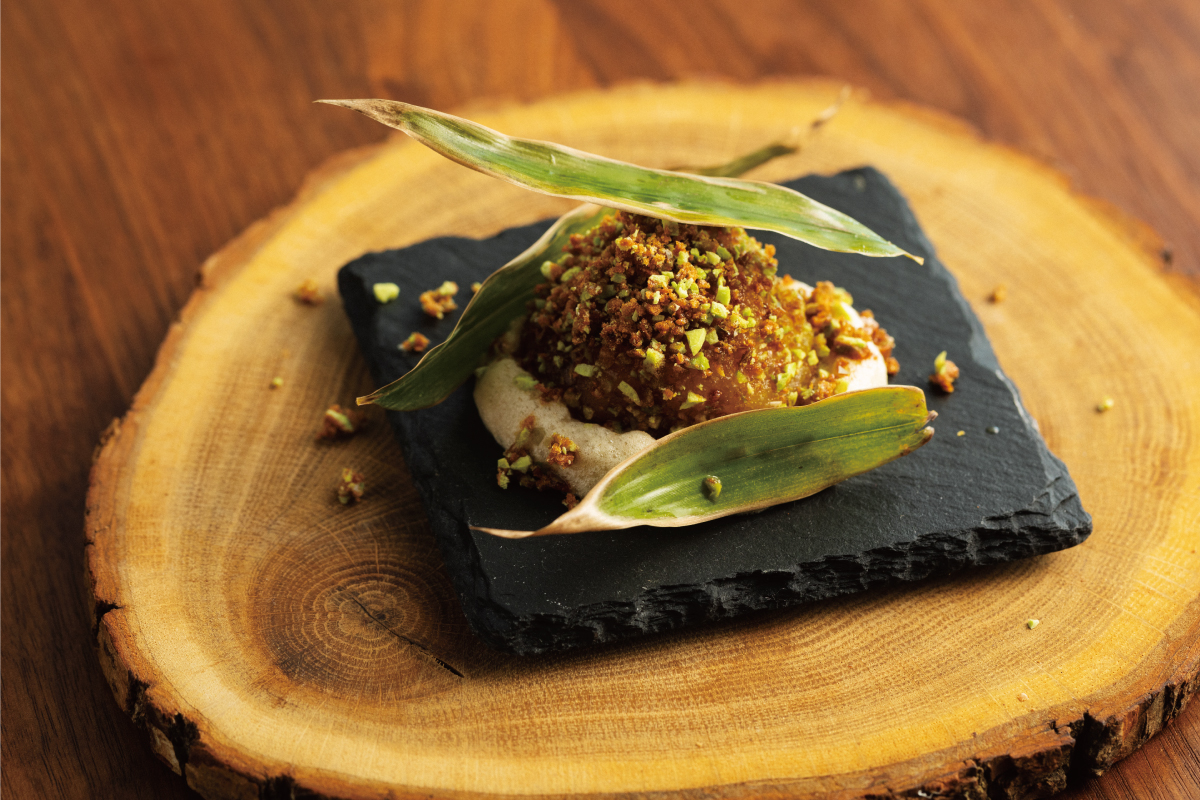 In Shonai, it was a custom for women to repair their clothes by themselves, then the embroidery culture developed. In order to convey this culture, I came up with an idea of yuzu mousse based on the theme of "Shonai Sashiko". I only talked a little bit about cooking with the members, and we hit it off in no time. The biggest benefit was to realize  that everyone really likes cooking. (Mr. Kimitoshi Arisaka)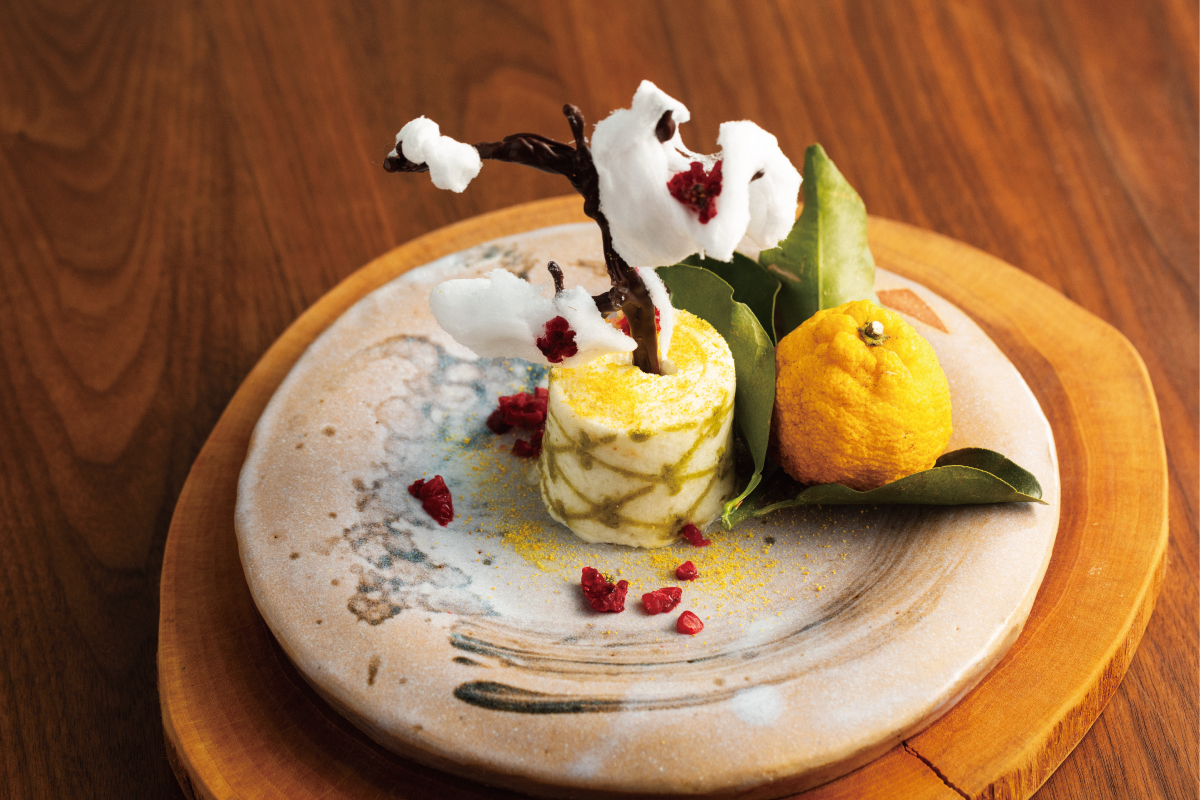 "Based on a French rice dessert called Ritz au lait, I recreated Sakuramochi using "Kame no o", which is said to be the origin of rice in Shonai. The members of CLUB RED has a quick mind and is creative. I learnt a lot from how to things are perceived differently than I do." (Yoshinori Igarashi)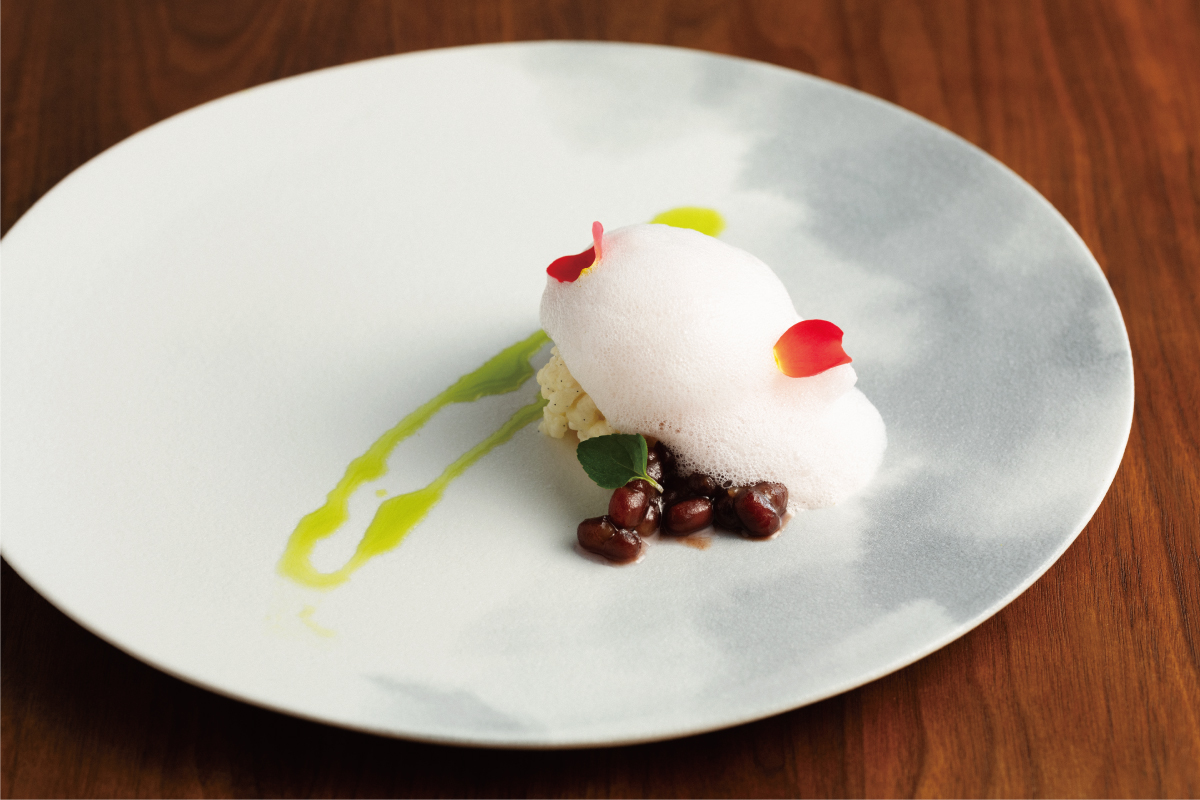 Overall review after the project. 

On the one hand, how did the project producers and instructor evaluate them? RED U -35 general producer, Mr. Kundo Koyama, the judge, Ms. Fumiko Kono and Mr. Isao Kumakura, who lectured on local cuisine, reviewed the project.
The power to bring out the charms of local cuisine that the local people do not notice. 
Mr. Kundo Koyama
"Despite a team of chefs from completely different genres, each person understood the role of the dish they are in charge of, in the course flow and still are able to express the individuality of the dish each of them are specialized in. I think that it is very wonderful. In this project, it was probably because they didn't know the local cuisine of Tsuruoka that they became aware of its charm. When you visit an unknown place and come into contact with local cuisine with the curiosity of discovering treasures, you may be able to bring out a charm that is not noticed by the local people. And it made me feel that possibility."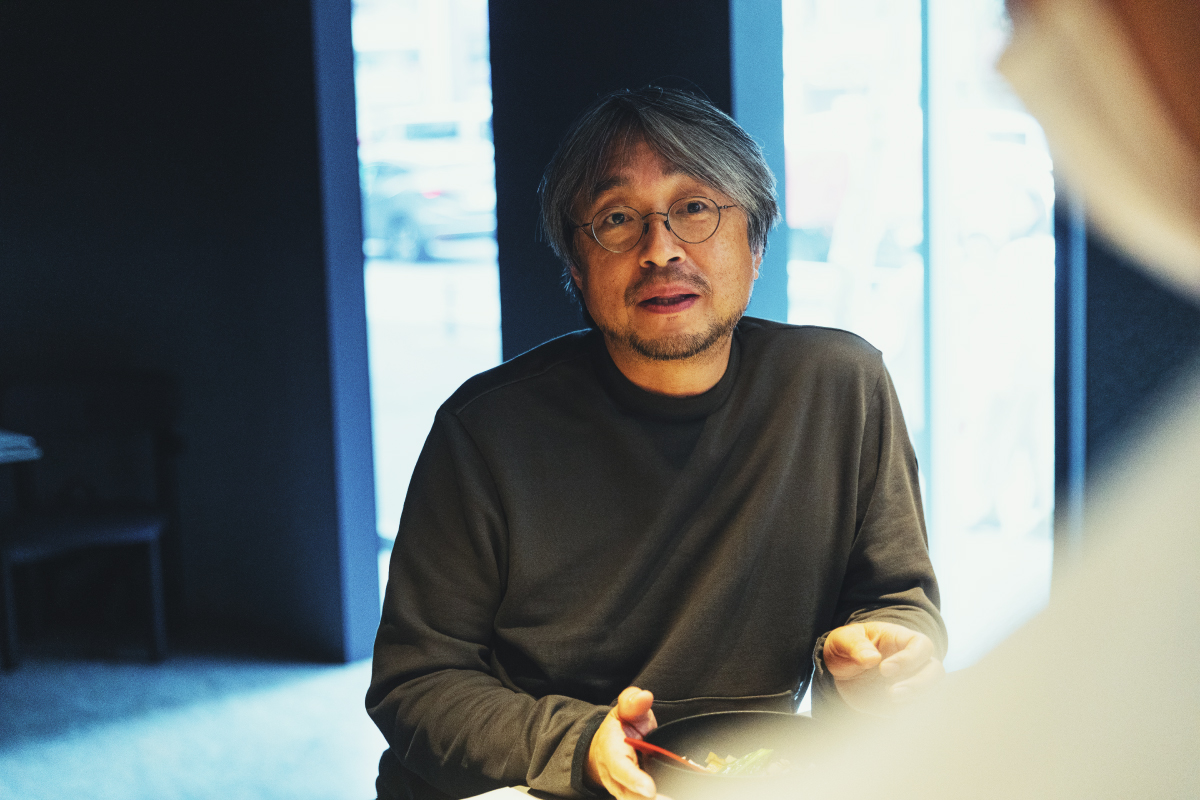 The future, indicated by cuisine with full of originality 
Ms. Fumiko Kono 
"I think it was wonderful that each of them interpreted the local cuisine of Tsuruoka with various thoughts and made it into dishes with full of originality. There were people who came up with recipes to coexist with harmful animals, and there were also people who were conscious of environmental problems. Through this project, I also realized that there are hints for achieving SDGs in local cuisine. After seeing the results of this project, I was convinced that I could reconstruct the local cuisine to suit the times. I hope that young chefs will continue to work hard."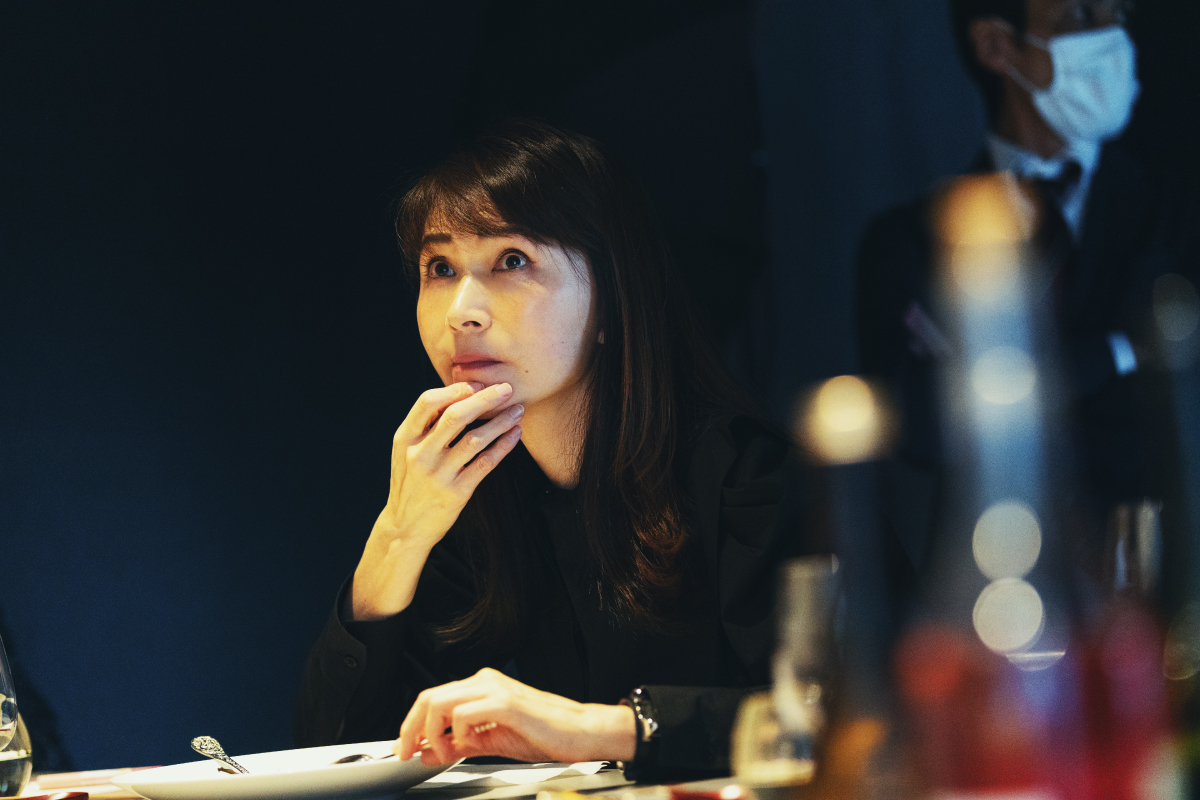 A story behind a dish beautifully described.
Mr. Isao Kumakura 
"All the dishes in the course meal were wonderful. I felt there were three directions of local cuisine. One is to use traditional ingredients and cooking methods to create local cuisine in a modern way. The other direction is to cook new ingredients in a new way to create modern local cuisine. And finally, the direction of mixing above two ways. I also thought it was amazing that they showed their attitude to tell the story behind the local cuisine."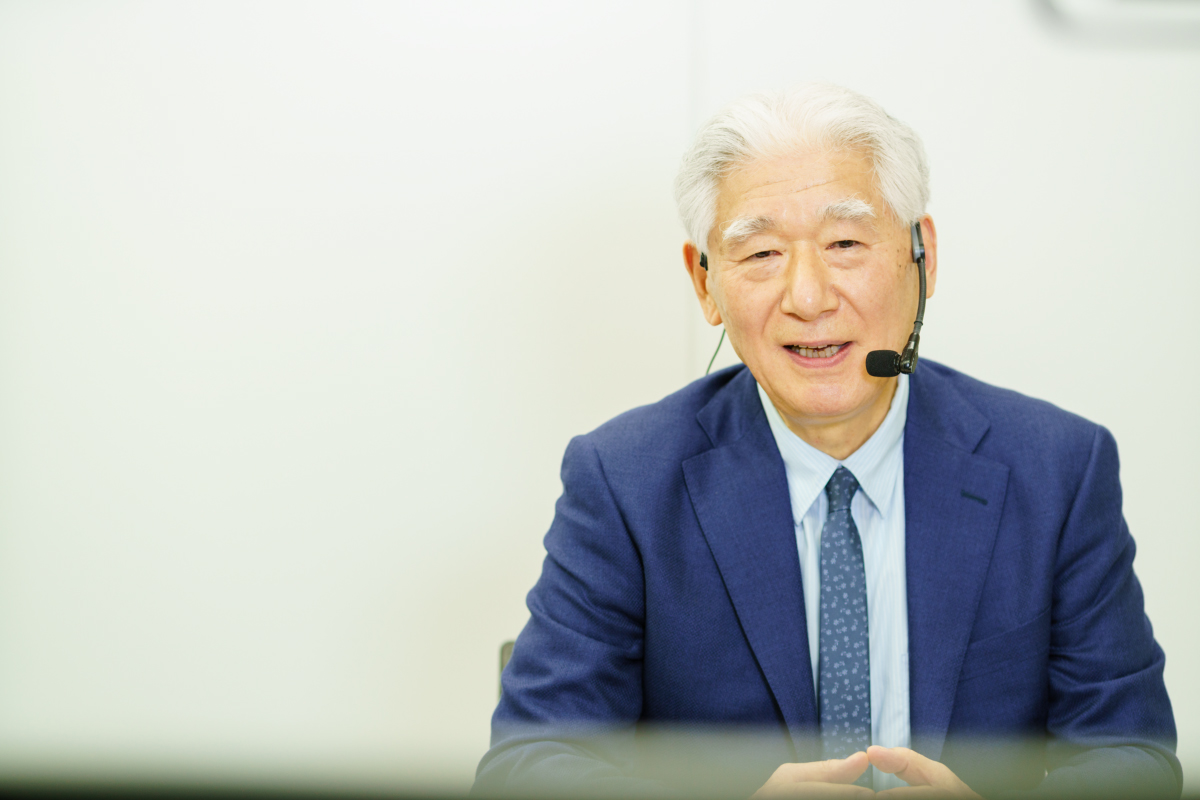 Stay tuned for the next "Japan Cultural Expo" × "CLUB RED" 

This project has been exploring the future of local cuisine for about six months. From the comments of the project producers and instructor, it shows that the achievements that young chefs learnt, have been transformed into local cuisine that can pass on to future generations. Many other "CLUB RED" members may have been inspired by this project. In order to give them an opportunity to perform, we plan to continue this "Japan Cultural Expo" × "CLUB RED" project. Stay tuned.
■A modern version of Tohoku's local cuisine.
  An easy recipe that can be enjoyed at home.
Based on the local cuisine in Tohoku rediscovered by young chefs through this project and the local cuisine of their hometowns, they created a recipe that can be enjoyed deliciously at home today. 
【Recipes 】
Yohei Narita(From Hirosaki city, Aomori/Japanese Cuisine/Kikunoi Honten<Kyoto>)
"Gapparamochi"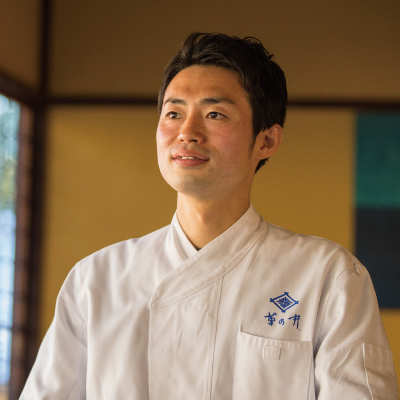 It is local sweets that was eaten in a part of Tsugaru area in Aomori Prefecture. Nori-kasumochi was created to prevent rice glue residue from being wasted in the process of making rice glue, which was once used for ironing clothes. It is said that the name "Gapparamochi" came from the way of putting it in a pan with the sound of "GAPA". It can be said that this confectionery is made from the spirit of taking good care of things and the spirit of Mottainai. My grandmother used to make this with leftover rice when I was little and didn't have any snacks. You can make it easily like pancake, so please try it at home with children.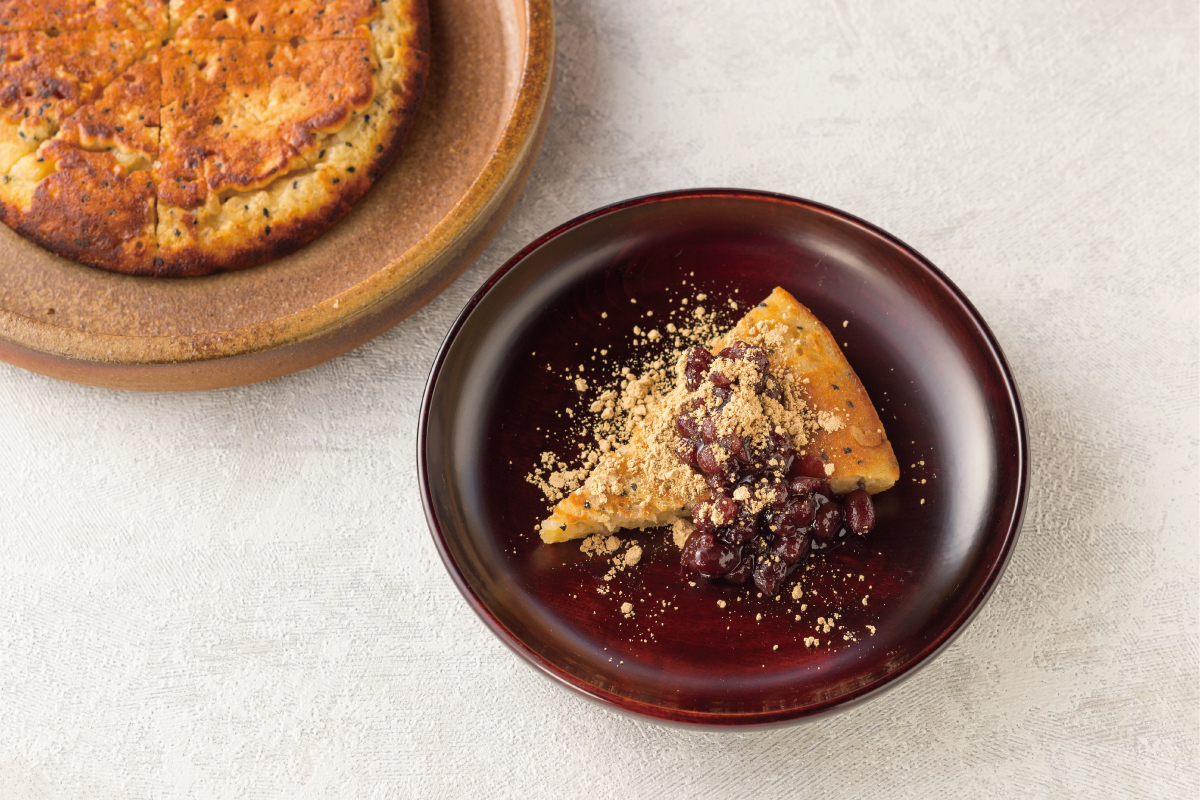 ook Time : 20 mins
Servings : 6-8
Ingredients 
Rice 300g
Milet sugar 80g
Flour 70g
Milk 70cc
1 Egg
Black pepper 6g
2 pinches of salt Vegetable oil (rapeseed oil, rice bran oil, Taihaku sesame oil) 15cc
Butter 15g
Directions
1 Put all ingredients except butter in a bowl, and mix until it barely combined, be careful not to make it clumpy.
2 Cook non-stick pan on the stove and pour step 1 into the pan.
3 Put a lid and cook in low heat for 6 mins, flip once it's lightly brown and cook for 6 mins.
4 Once the other side is lightly brown, put a butter from edge of the pan. Gently shake the pan to make dark brown on the both sides.
5 Put it on the cutting board and cut into pieces.
6 Serve with sweet bean paste or Kinako.
Kenya Sakai (From Kuroishi city, Aomori/Japanese Cuisine/Kenya<Kyoto>) "Dashi with seafood" Mixing local cuisine of Hokkaido "Matsumaezuke"
and local cuisine of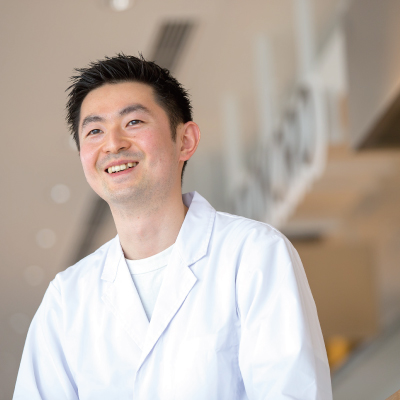 Yamagata "Dashi". I tried to combine the advantages of both being great add on to rice. It's easy to make at home and can be stored, hence it's perfect as a ready-to-eat dish. Enjoy different kinds of textures.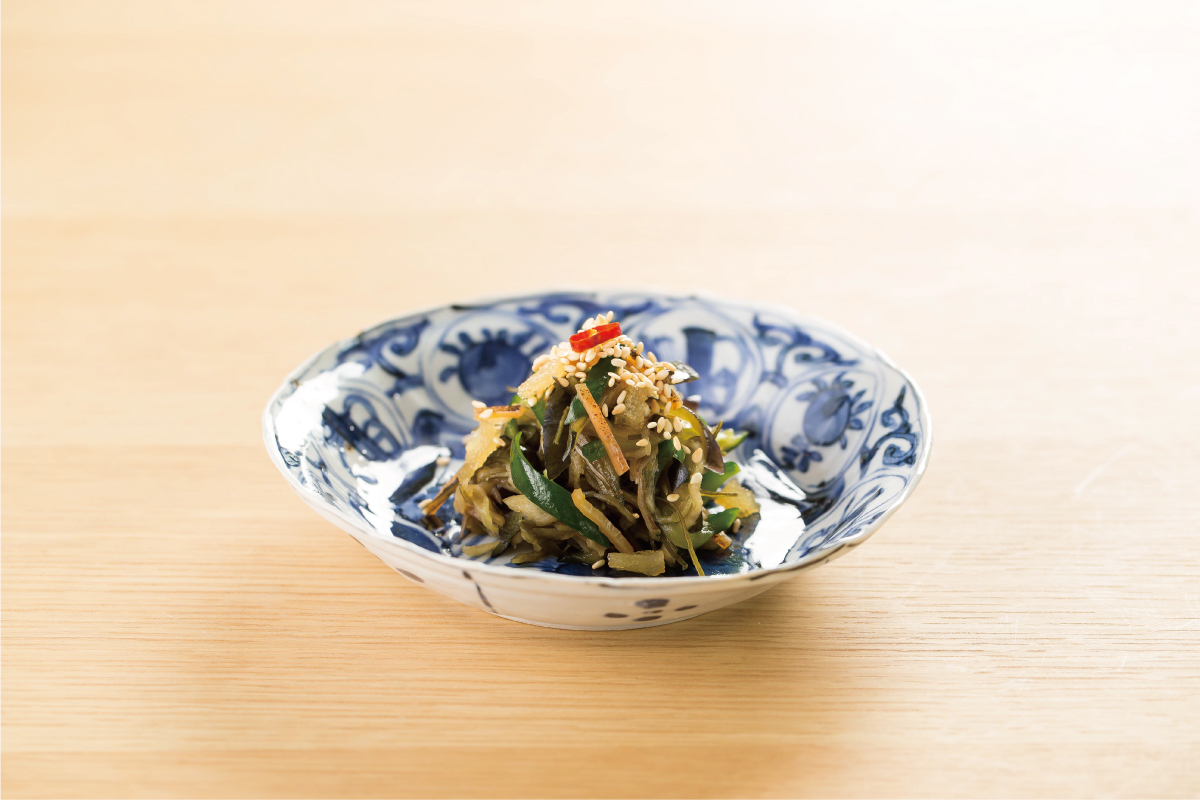 Cook Time : 40 mins
Servings : 4
Ingredients
Cucumber 200g
approx. 2pcs
Eggplant 250 approx. 2pcs
Kiriboshi Daikon (Dried Japanese radish) 40g
Myoga (Japanese ginger) 3pcs
Gagome kelp 20g
Dried squid 20g
Kazunoko 2pcs
Shottsuru fish sauce 15cc
Dark soy sauce 60cc
Sake 45cc
Mirin 45cc
Sugar 25g
Red hot pepper 2pcs
White sesame as needed
Directions
1 Cut cucumbers and eggplants in the size of 5x3cm and sprinkle salt and leave for 15 mins. Squeeze out the moisture.
2 Finley cut Myoga in stripes.
3 Soak Kiriboshi Daikon in a water for 5 mins and cut them into 5cm.
4 Cut kelp and dried squid into
5cm and dip them in water and leave them on strainer until its soft for 10 mins. 5 Put all the seasonings and red hot pepper in a pot and bring to boil. Let it cool.
6 Mix all together. *It can be stored in a refrigerator for about a week and can be enjoyed it as aemono (chopped vegetables with dressing) when it's fresh, or as a great add on to rice after several days. Adjust the amount of seasoning to your taste.
Hiraku Fukushima(From Yonezawa city, Yamagata/Chinese/chinois Renpo<Saitama>) "Chinese style spring Imoni"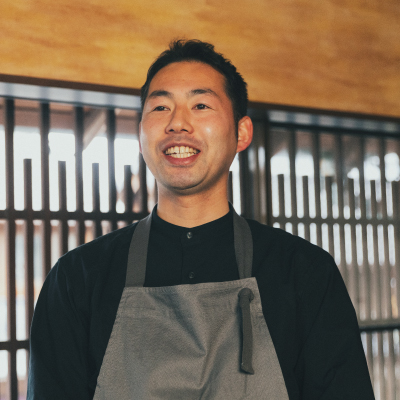 This is soy sauce based Imoni with beef that is eaten in Yonezawa, Yamagata, made into my style. Yamagata Imoni is a local dish that is often eaten in autumn, however I combined it with spring ingredients such as taro for filling in order to enjoy it in other seasons.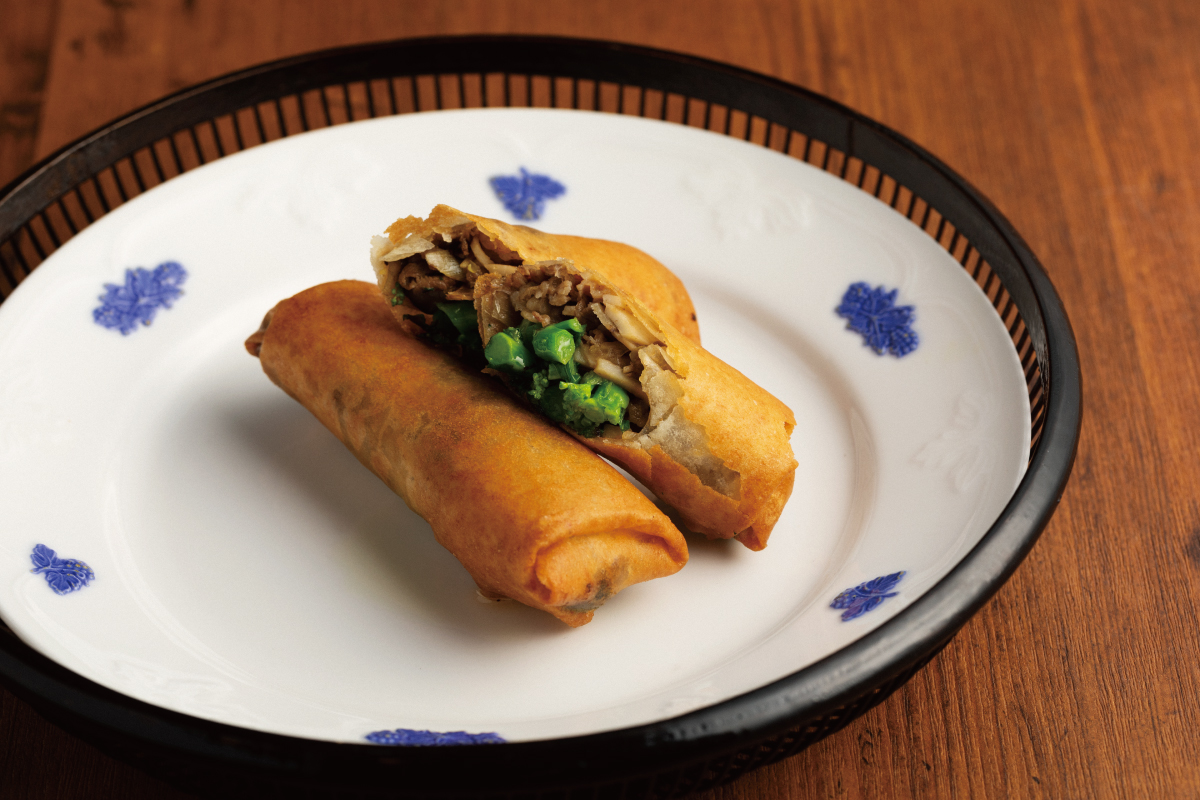 Cook time : 30 mins
Servings : 5
Ingredients
Taro (shred) 120g
Beef (scraps) 50g
Shiitake mushrooms (shred) 30g
Kojac (shred) 30g
Burdock (shaved) 30g
Rape flower (1cm) 50g
Green onion (shred) 15g
Ginger (shred) 5g
Spring roll wrapper 5 sheets
Flour, water as needed Kelp water 120cc
Soy sauce 1.5
Tbsp Caster sugar 0.5 Tsp
Mirin 1 Tbsp
Sesame oil 1 Tsp
Directions
1 Put vegetable oil (not included in ingredients list) in a pan and stir fry the beef and take out once its cooked.
2 Put burdock in the same pan and stir fry, once burdock is soft, add in the order of spring onions, ginger, shiitake mushrooms and konjac. Put all the seasonings except sesame oil.
3 Once all the ingredients in the pan is cooked, put back the beef and taro which is softened beforehand.
4 Simmer in medium heat for 3 mins and turn to high heat until taro is creamy and boil off the water. Add sesame oil and leave it on plate and let it cool.
5 Stir fry rape flower in a different pan and season with salt and mustard as you like.
6 Roll step 4 - 50g and step 5- 10g in spring roll wrapper and use flour water to seal it.
7 Deep fry spring rolls in 180℃ oil until they are golden. Cut them and Serve on the plate.
Hikaru Hayakawa(From Kazuno city, Akita/Italian/XEX Tokyo Salvatore Cuomo Bros. <Tokyo>) "Speciality of Akita, Damako hot pot Italian style with Akitakomachi gnocchi"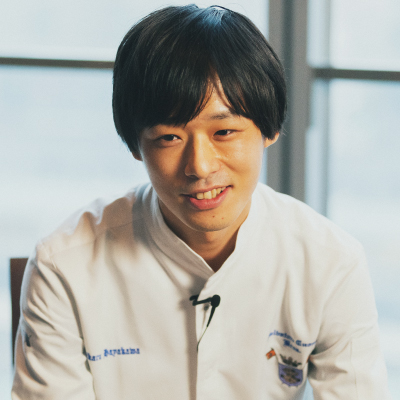 The difference between the "Kiritanpo hot pot" which most people think of as a specialty of Akita Prefecture and the "Damako hot pot" that is the base of this recipe is how much rice is mashed. At my parents' home, I used to make Damako hot pot which is easier to make than Kiritanpo hot pot. I remember making it with my grandmother when I was little. I recreated this memorable local cuisine as the Italian dish I've learnt.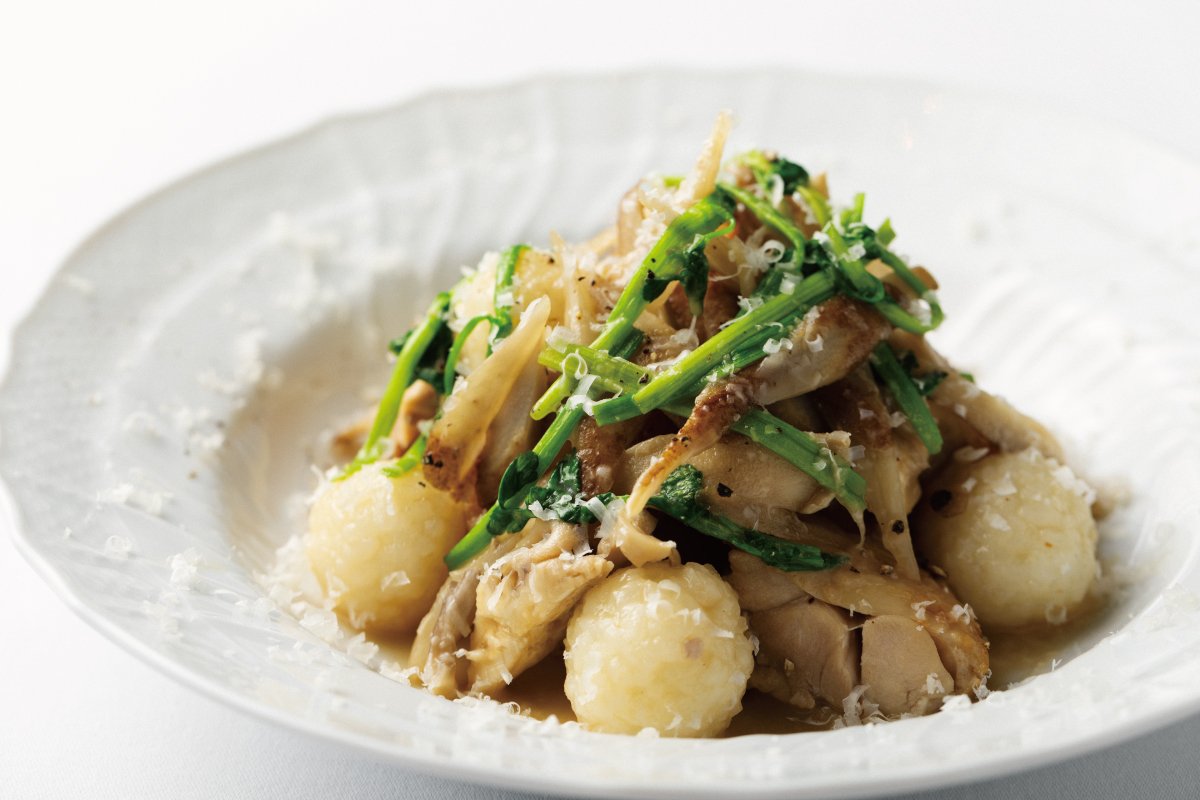 Cook time : 40 mins
Serving : 1
Ingredients
Hinai Jidori chicken thigh (any chicken thigh is fine )120g
Akitakomachi rice (leftover rice or other rice is fine) 60g
Burdock 15g
Maitake mushrooms 20g
Seri 15g
Salt 2g
Chicken stock powder 2g
Water 80g
Soy sauce 3g
Butter 15g
Black pepper 0.5g
Parmigiano cheese powder 10g
Pure olive oil 15g
Directions
1 Wrap leftover rice in plastic wrap and warm it in microwave until its soft. Put it in a bowl, add salt. Mash it with pestle until there's a bit rice left. Soak your hands in water and make it into 10g balls.
2 Season the chicken with salt and black pepper and put the skin side down in a pan and sauté in medium low heat. Once the skin is crispy, flip it and sauté for another 20 secs. Leave it about 5 mins and cut it into bite size pieces. (Rare inside)
3 Cut burdock in thin shavings and leave it in water for 10 mins and cut Maitake mushrooms and seri into small pieces.
4 Put water, chicken stock powder and soy sauce in a pan to dissolve. Add burdock, chicken, mushrooms and gnocchi to cook.
5 Once the water is reduced, add butter, black pepper and seri, and mix them until butter is melted.
6 Serve on the plate and sprinkle parmigiano cheese.
Takuto Hirokawa(From Shibata city, Niigata/French/East Gallery<Tokyo>) "Kozuyu Ravioli with the scent of yuzu and beacon"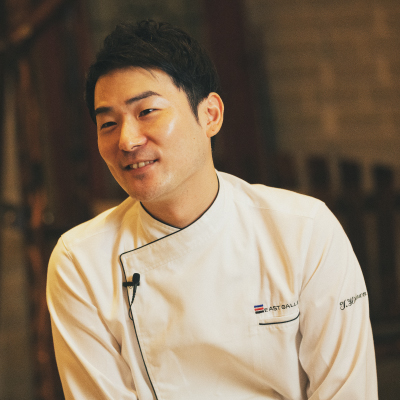 A local simmered dishes made on special days in various parts of Japan have their own unique ingredients and tastes, and are loved as the taste of their hometown in every area. This is my version of local cuisine of Aizu, Fukushima "Kozuyu" which is a soup filled with the flavors of dried scallops and vegetables. It's also a recipe for using leftover "Kozuyu" from the day before. I made it into ravioli style by making use of the textures of the ingredients and the soup with a rich broth.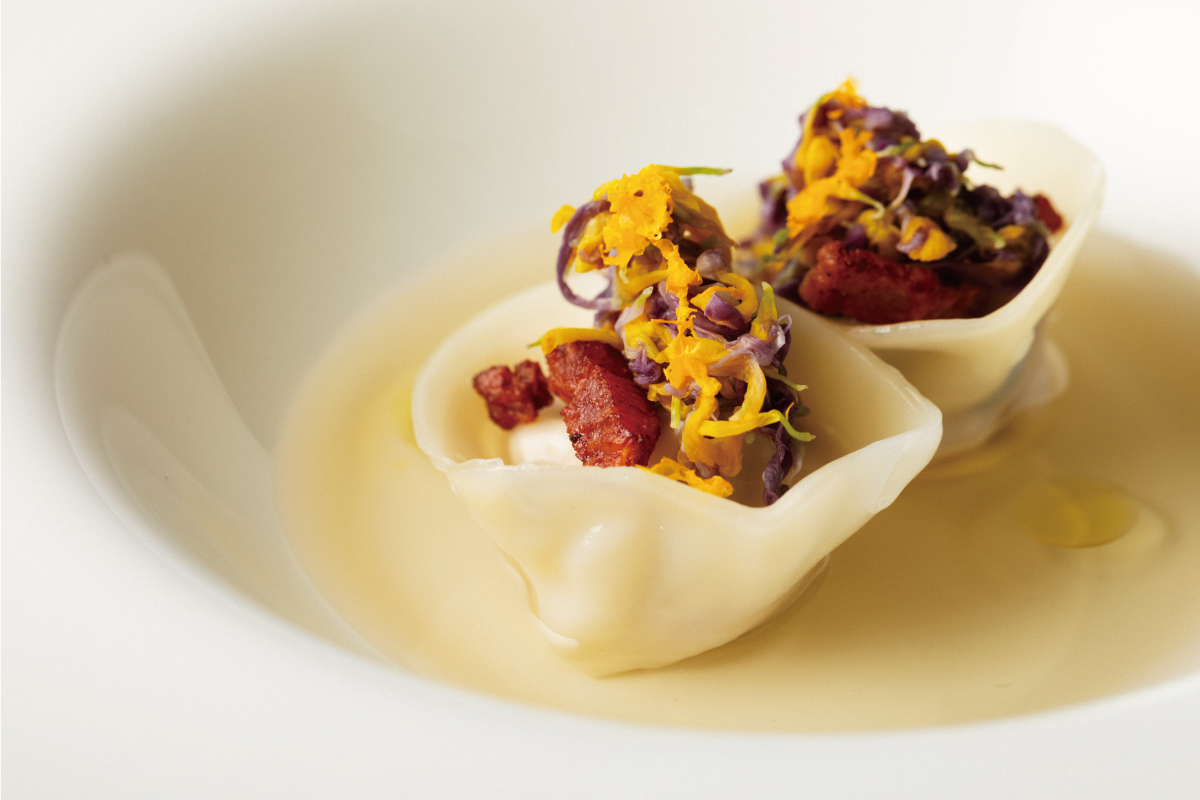 Cook time : 60 mins
Servings : 4
Ingredients  
Dried shallops 4pcs
Dried shiitake mushrooms 2pcs
Konjac noodle 50g
Dried wood ear mushrooms 5g
1/5pc of Carrot
Taro 2pcs
Tamafu 10g
Soy sauce 1.5 Tbsp
Salt 0.5 Tsp
Sake 30cc
Grounded pork 100g
Boiled dumpling skin 20pcs
Potato starch 10g
Edible chrysanthemum (purple, yellow) as needed 1/5 pc of Yuzu peel
Beacon (cut into sticks) 20g
Directions
1 Soak dried scallops and dried shiitake mushrooms in water for half a day (overnight is fine as well). Also soak the dried wood ear mushrooms in a water.
2 Cut the konjac noodles into 4 cm pieces, and peel carrot and taro and cut into small cubes. Cut shiitake mushrooms into cubes, break up the scallops with hands, and put the soaking water to the pot.
3 Put the konjac and vegetables in a pot, starting with the hard ones, and simmer until a skewer can pass through. When the vegetables are cooked, add the shiitake mushrooms, scallops, seasonings and tamafu. Let it cool.
4 Separate cooled mixture from Step 3 into the soup and ingredients, and mix well in a bowl with 10 cc of the soup, ground pork and potato starch.
5 Wrap 12g of filling with the dumplings skin, fold in half, and form into a circle with both ends stuck together.
6 Sauté the bacon in a pan. Cut yuzu peel into thin stripes. Quickly boil the edible chrysanthemum and drain.
7 Boil the ravioli, serve it on a plate with heated soup, and garnish with bacon, yuzu, edible chrysanthemum, and olive oil.
Mikio Sugata(From Tono city, Iwate/Italian/Onohizume <Iwate>) "Milk coffee Ganzuki"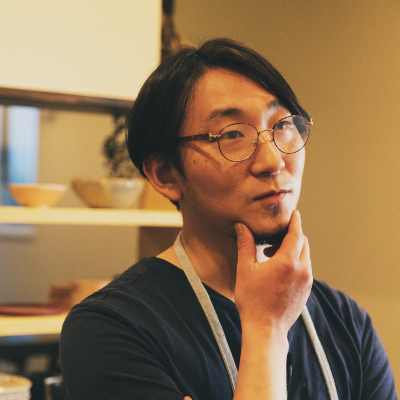 "Ganzuki", a local cuisine of Iwate Prefecture, is steamed bread eaten between farm work and is also called "Kobiru (Kobiri)" in my hometown. Easy snack that can be made without oven. However, there are fewer young people who can make Ganzuki these days. This recipe was created in the hope that it will continue to be loved by local people. The ingredients are all easy to get, and it's easy to make as you just need to mix and steam. Please try making it with your own style.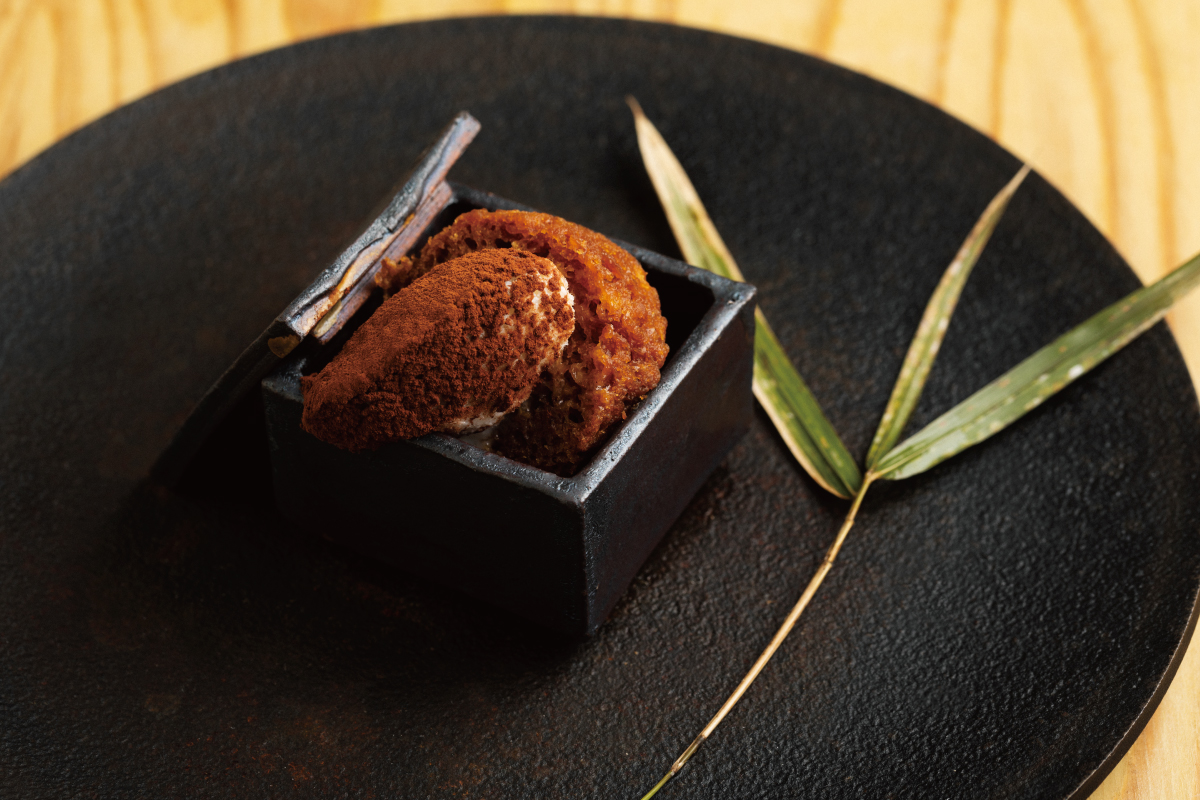 Cook time : 30 mins
Servings : 4
Ingredients
a- Flour 100g
a- Caster sugar 70g
a- Baking soda 5g
b- Milk 70cc
b- Coffee liqueur 50g
b- Olive oil 10g
b- Vinegar 50g
b- Soy sauce 5g
c- Milk 200cc
c- Yogurt 50g
c- Granulated sugar 20g
c- Salt 3g
Directions
1 Put a in a bowl.
2 Put b in a bowl.
3 Mix step 1 and 2 together.
4 Pour it in a mold or heatproof container. *any size as long as it fits in steamer.
5 Put step 4 in a steamer and steam it for 10 mins in high heat.
6 Steam for another 20 mins in low heat and Ganzuki is done.
7 Put c into a pot and warm not bring to boil. Put it in a bowl and whisk it in a freezer until it's frozen enough to make gelato. Serve on a plate together with Ganzuki. You can just top it with a store brought ice cream.
Every recipe is easy to make at home, so please give them a try. I hope that you will feel a part of their answer to convey the charms of local cuisine to the future.
※Japan Cultural Expo "Beauty of Japan" that continues from Jomon era to the present day.
"Japan Expo" is a festival of culture and art, under overall theme of "Japanese and Nature" , aiming to create a new future by disseminating "Japanese Beauty" that flows through Japanese culture and art all over Japan, to both Japan and world, and passing on to the next generation.
We hope that the Japan Expo held in various parts of Japan will encourage people to interact and evoke excitement, and lead to respect for diversity in the world, sharing of universality, and prayer for peace.