DISCOVERING THE TALENTED CHEFS OF TOMORROW AND THEIR DELICIOUS NEW CREATIONS.
RED U-35 (RYORININ's EMERGING DREAM) was launched in 2013 as Japan's largest culinary competition to discover the young talented chefs of tomorrow. Backed by Japan's food industry leaders, this contest evaluates its contestants from a completely different perspective compared to other competitions for the purpose of discovering and supporting the growth of a new generation of chefs (creators) who are filled with dreams, ambitions, and new values. Our hope is that this competition will inspire the chefs of our future, help to shape their vision, and thus, raise the foundation and values of Japan's culinary world in the future.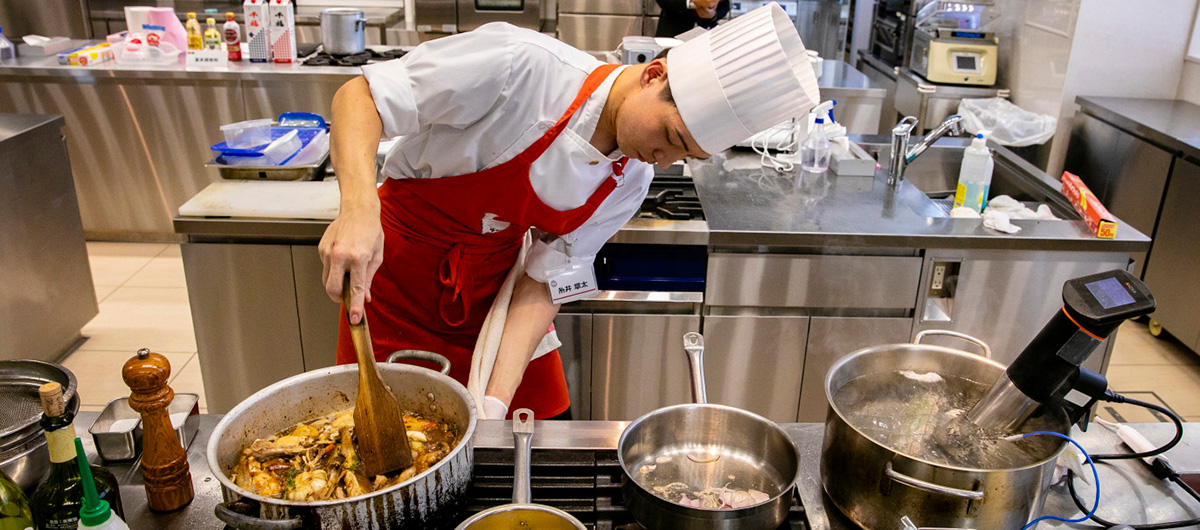 WHAT, BEYOND THE ACT OF COOKING, ARE THE YOUNG CHALLENGERS—THE TALENTED CHEFS WHO INSPIRE US WITH THEIR DELECTABLE DISHES—SEARCHING FOR?
And who are these challengers, these next-generation food creators with fresh perspectives, that are inspired to introduce sweeping changes?
They are young, ambitious chefs that step outside their own comfort zone to interact with farmers and other producers throughout Japan and to experience diverse food cultures around the world. Together, they take a hard look at the food-related issues facing society in their search for what lies beyond the act of cooking.
This is what the RED PROJECT is all about. We discover new talent through the RED U-35 competition, and bring these chefs together through CLUB RED so that they can connect with one another and create something new.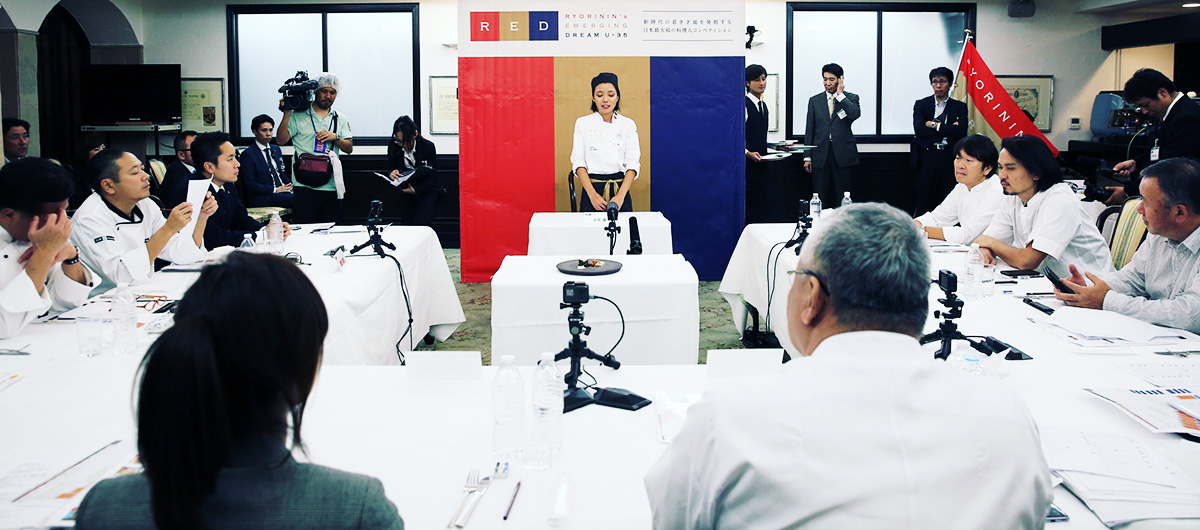 RED U-35 2022
Co-Creating Our Food of the Future
――What will the chefs of the future be connected to, and how will they adapt?
The global paradigm shift has led to a revaluation of the future prospect of chefs (creators).
Whether within or outside the kitchen, chefs can work anytime, anywhere, without being restricted by space or time.
What to offer, what to create, what to communicate, what to set in motion.
One person's knowledge and ideas alone cannot make it all happen. By coming together and connecting with each other, something new can be created.
Learning about different values will help improve the value of food culture in the future.
With new judges, RED U-35 2022 aims to be the stage for exchanging and executing ideas among the next generation of culinary creators.
We hope to discover new talents who believe in changing the future of the world through the power of food, as well as the talented chefs of tomorrow.
We are proud to announce the 9th edition of RED U-35 2022.
Eligibility – RED U-35 2022
Chefs (age 35 or younger) who dream of becoming new culinary creators
- You must be age 35 or younger on December 31, 2022 (your date of birth must be on or after January 1, 1987).
- You must be a professional chef (your main line of work must be in the culinary profession).
* Applications are accepted not only from chefs who work at restaurants or hotels (both in and outside of Japan), patissier (pastry), boulanger (baker), freelance chef, personal chef, culinary researchers, and instructors at culinary schools.
* Students (unemployed and currently attending school) cannot apply.
- Applications are accepted from people of all nationalities with at least three years of experience working in Japan in the culinary profession.
- The application procedures and all communication during the competition will be in the Japanese language.
- You must be able to attend all judging events and award ceremonies held in Japan.
- You and the restaurants/hotels at which you work must not be affiliated in any way with any organized crime groups or other antisocial forces.
- Former grand prize winners of previous RED U-35 competitions (RED EGG) cannot apply.
Application Details
Application Period:
14:00 June 1 (Wed) – 18:00 June 22, 2022 (Wed)
Please check here for the application details of RED U-35 2022 competition.
Click here (Japanese language only)
Application Theme
To journey, to visit, to eat, to feel happy.
What does the 'journey' mean to you?
Since travel restrictions are still in place,
What is the 'journey' you think about as a chef?
What is the value or vision you propose?
Express your thoughts and message about 'food' and 'journey' as a chef. Your application is always welcome.
Application Guidelines
(1) Express your thoughts and message about the word 'journey' as a chef (in 1200 words or less).
(2) Cuisine: The dish that best represents your journey (Menu name, concept, price, cooking time, recipe, and picture)
Process of the competition
・1st : Document Screening
・2nd : Video Screening
・3rd : Online Screening
・Final(that is held in a different manner at every contest)
RED U-35 screens its applicants using a unique method that is completely different from other culinary contests, in order to discover potential star chefs of the future. The contest receives nearly 500 applicants every year. These contestants are screened for their skills and personality through a process that takes about half a year. The first step is document screening, followed by the second screening through video (YouTube), then the third step of technical screening, followed by the fourth and final screening that is held in a different manner at every contest. The key point of these screenings is that the judges look not at the level of perfection and skills at this present time, but for possibilities and potentials of the contestants to make great strides in the future. The competition ends with an award ceremony, at which the final results are announced, and the Grand Prix winner is presented widely to the general public.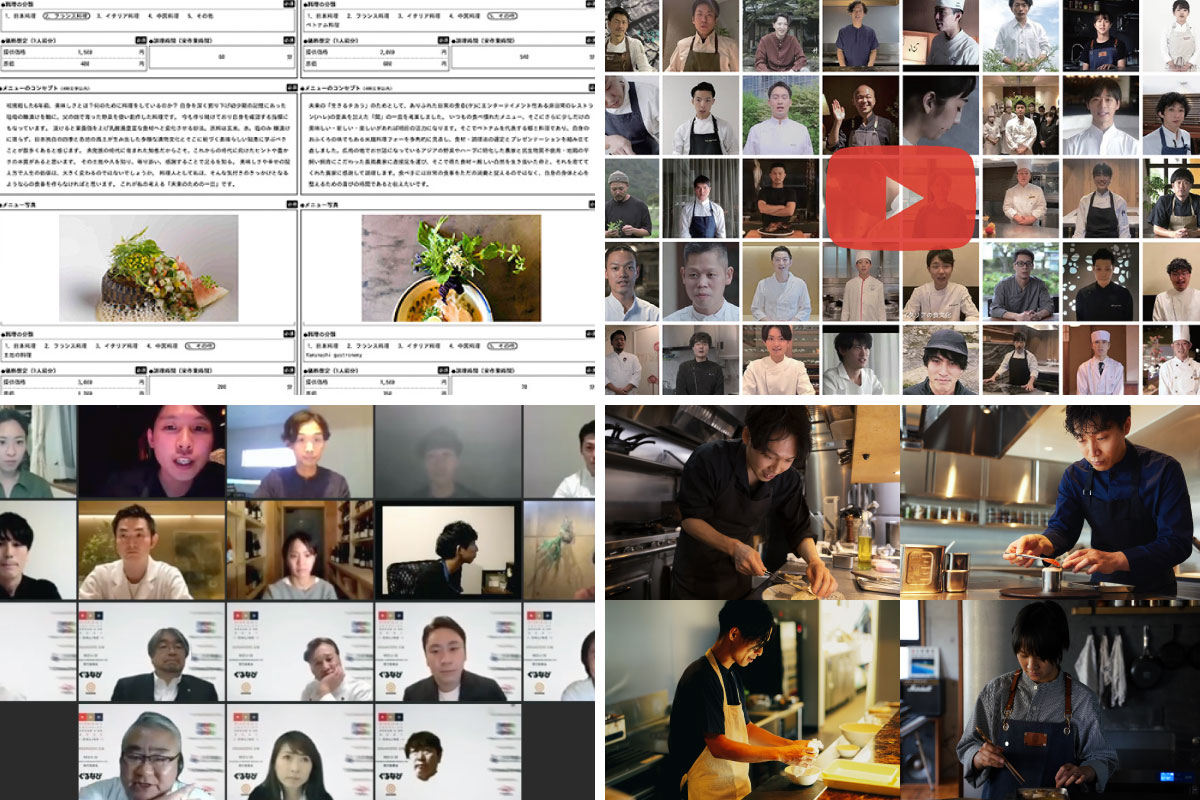 Points of evaluation
・Personality and communicativeness that the contestant has as a chef.
・Skills, creativity, expressive abilities, and talent.
・Potential and vision for the future.
Prize
Grand Prix
Prize money of 5 million yen
Second Place
Prize money of 500,000 yen
Awarded to the highest-placed female chef
Awarded to give encouragement to a young Japanese chef currently working overseas who shows promise of achieving dramatic growth in the future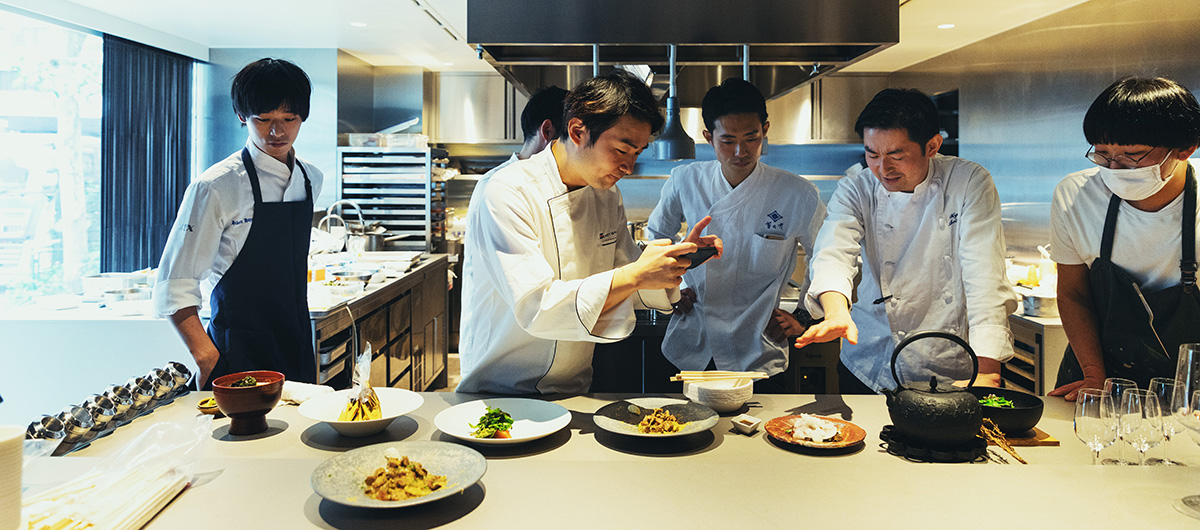 CLUB RED is a creative culinary laboratory that brings RED U-35 (RYORININ's EMERGING DREAM) contestants who received high ratings (received the Bronze Egg or above and Asako Kishi Award / Hisao Taki Award) together with the contests' successive judges. The club conducts diverse activities to give chefs a place to exchange, experience, and promote their culinary pursuits.
The club was launched in spring 2015 in order to realize RED U-35's philosophy of discovering young talented chefs of tomorrow, and fostering them to become future star chefs of Japan. By partnering actively with many different companies, organizations and local governments, CLUB RED provides its members with opportunities to conduct activities that take them beyond the confines of the kitchen of their own restaurant, thus serving the purpose of enabling them to gain a depth of experience as a chef, as well as having them contribute to Japan's culinary future. We believe in the future of CLUB RED, which holds great value and potential toward unearthing exquisite tastes