An in-depth look at the menu of the multi-course meal of local Hokuriku cuisine that CLUB RED chefs spent one year creating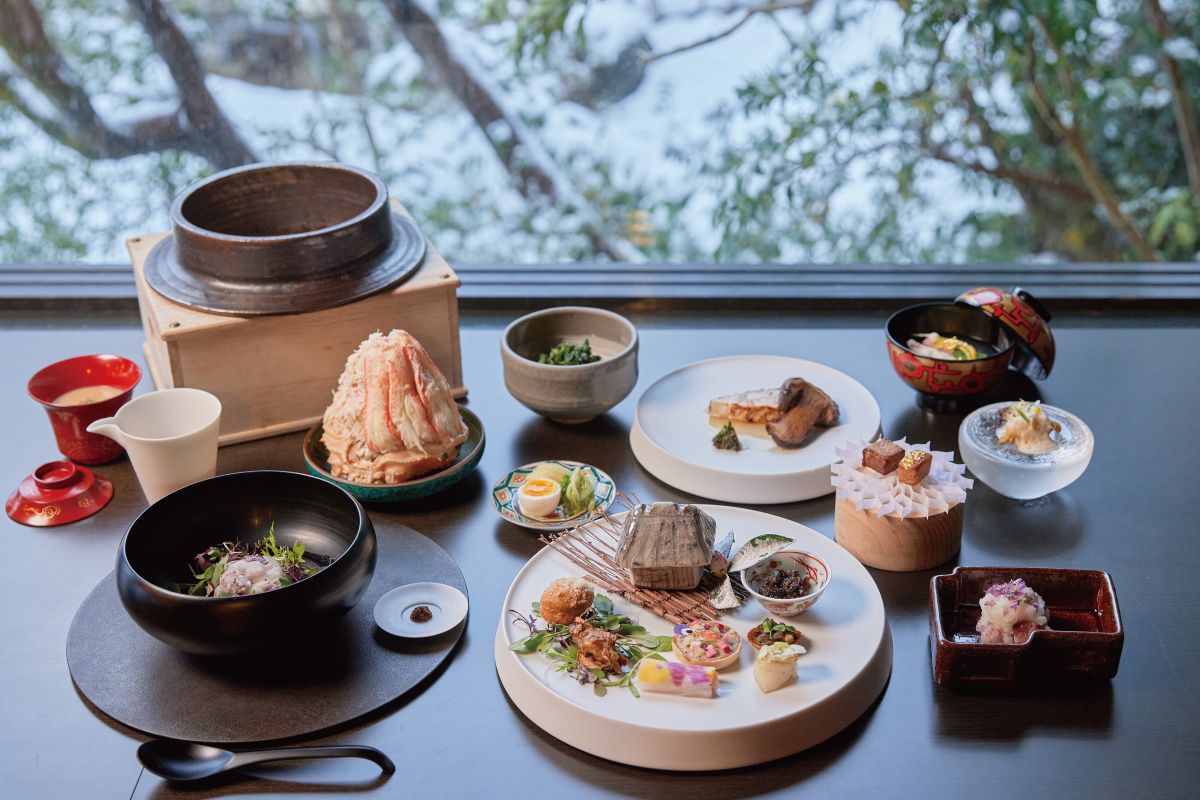 The "Japan Cultural Expo x CLUB RED: Traveling Japan by Dining in Hokuriku" dining event was held at Kenrokuen Teahouse Kenjotei in Kanazawa, Ishikawa Prefecture, on Saturday, January 21 and Sunday, January 22, 2022.
The aim of the Japan Cultural Expo x CLUB RED project is to rediscover the appeal of local cuisine, which conveys the culinary culture of the region, for the next generation as well as for people overseas.
The theme of this event is the cuisine of Ishikawa, Toyama, and Fukui Prefectures in Japan's Hokuriku region.
The young chefs of CLUB RED with ties to Hokuriku learned about the food, culture, and climate of each area during the year-long "Hokuriku Labo", and created a new form of local cuisine inspired by Aenokoto, an ancient farm village event in Okunoto.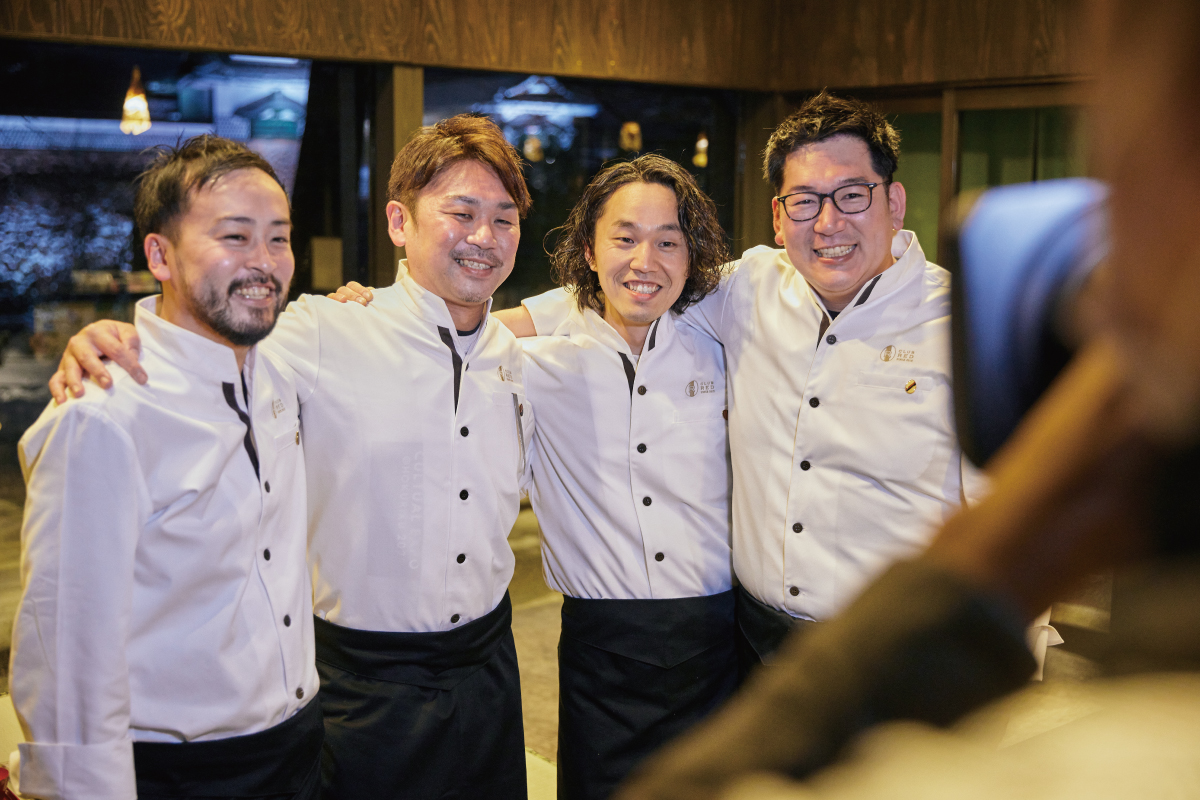 The four participating chefs were CLUB RED's Tohru Kawashima, Toshiharu Sunayama, Yuta Hamada, and Meiju Hirata. In addition, pâtissier Ryo Kishimoto from Les Tonnelles (Kanazawa), sommelier Daigo Fukushima, and sommelier Takuya Shioshi from Villa della pace (Nanao) also participated.
Let us now take a look at the day's dishes and drink pairings in the chefs' own words.
*The names in parentheses are the contributing chefs.
*For the pairing drinks, those marked with "A)" are alcoholic beverages (Hamada, Shioshi), while those with "N)" are non-alcoholic (Fukushima).
[Welcome] Amuse-Bouche (Sunayama, Hamada)
Turnip Sushi with Foie Gras (Sunayama)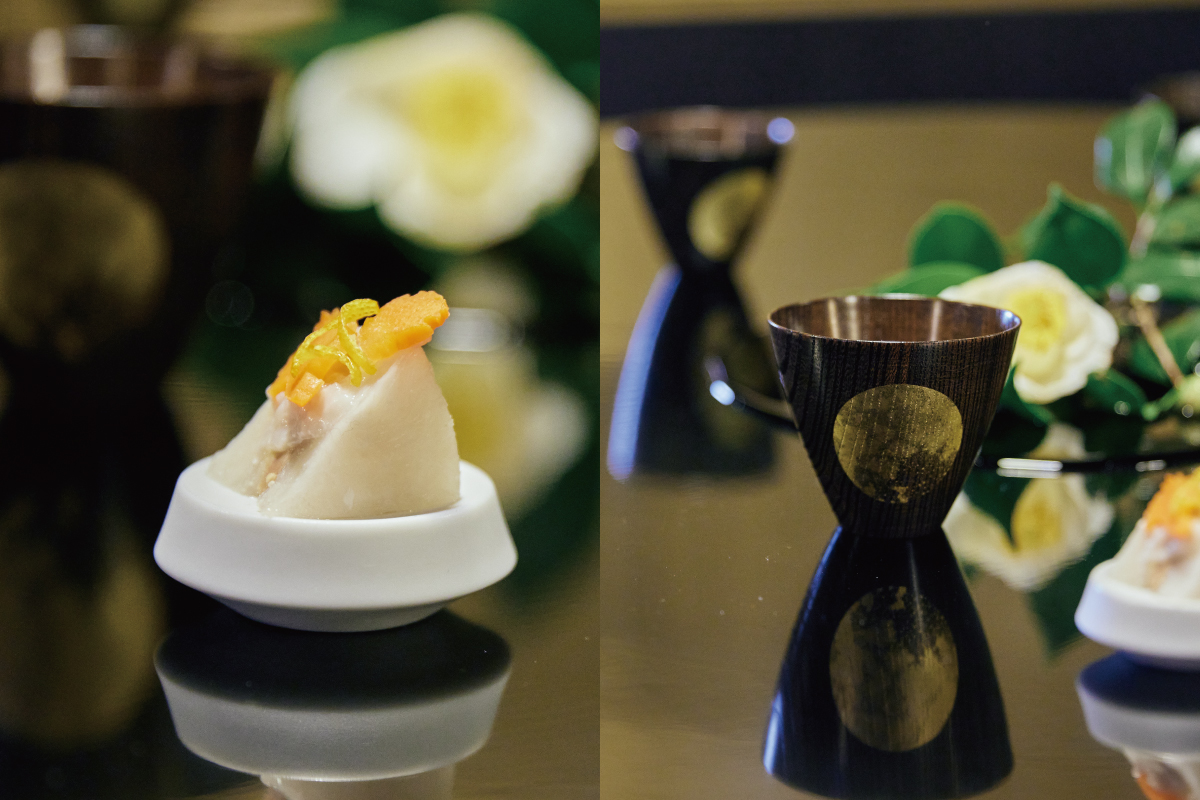 Turnip sushi is a traditional Hokuriku winter dish. Normally, it is fermented with yellowtail, but in this case foie gras is used to express it as a French dish. Additionally, green turnips were replaced with white turnips to give it a crispy, juicy texture.
Amazake (Hamada)
Made using koji mold from Toyama koji maker Ishikuro Koji.
It was fermented together with Koshihikari rice for six hours to bring out the sweetness of the rice derived from koji fermentation. Ginger juice is added for an accent.
■Pairing
A) Bocchi Cider
This is the first in-house brewed cider from the Kanazawa winery Vin de la bocchi. It has an aroma of freshly picked apples, a mild but refreshing acidity, and a slight sweetness that is not too dry, making it very approachable. The slightly lower gas pressure also contributes to its pleasant drinking experience.
N) Herbal Water Made from Kanazawa-Grown Red Shiso
Red shiso harvested from Budoonoki vineyard in Kanazawa is distilled at the Mint Reino herb garden (in Hakusan) to create herbal water with a resplendent aroma. It is then finished with elderflower and lemon verbena from my own vegetable garden.
[1st Dish] Appetizers (Kawashima, Sunayama, Hamada, Hirata)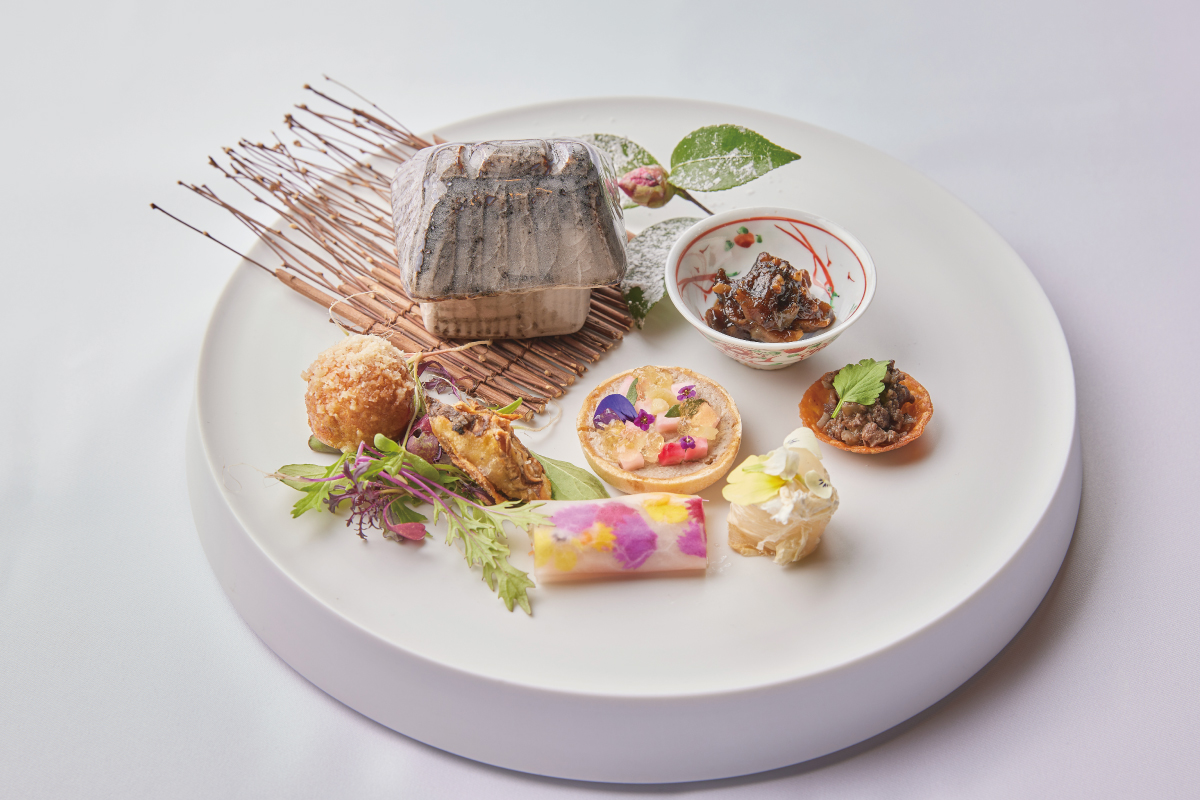 Grilled Squid Entrail Shiokara (Kawashima)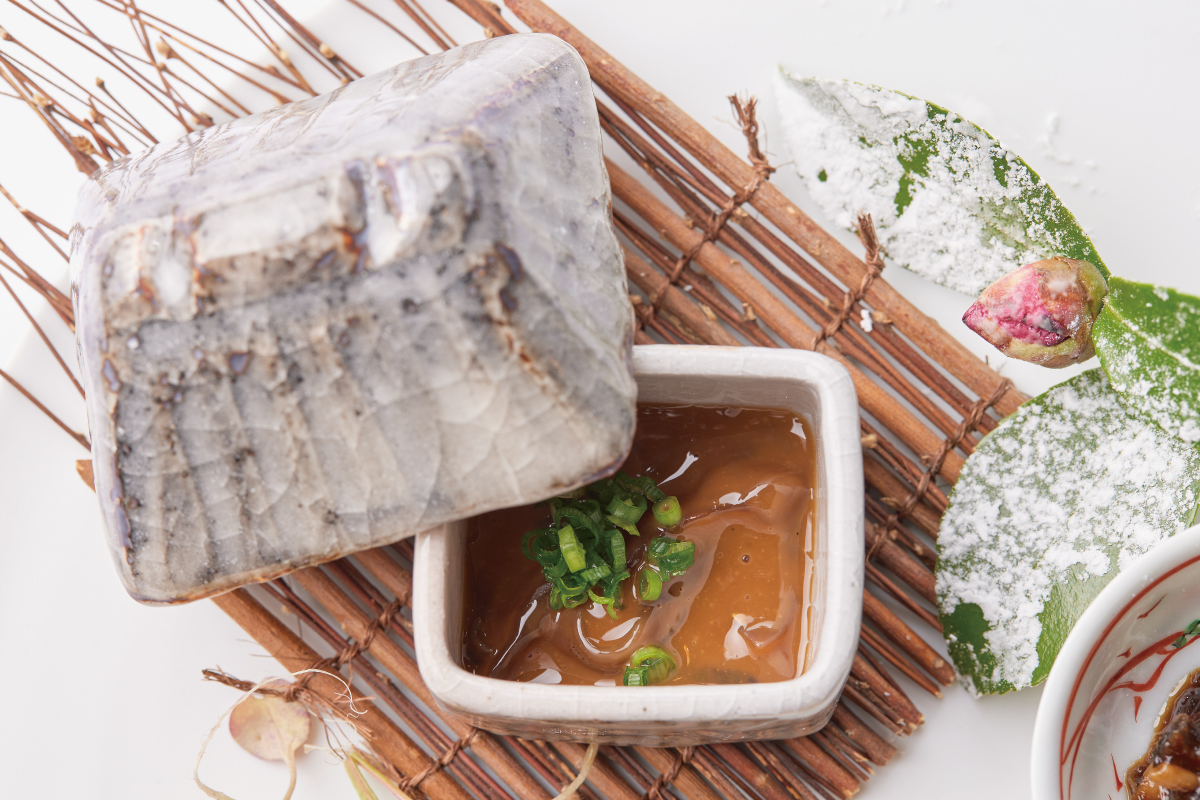 This is made by grilling and then salting the entrails of the Japanese flying squid, and charred ishiru (salted and fermented fish sauce) is also used. The town of Noto is one of the three largest squid fishing ports in Japan, and shiokara is one of the traditional local dishes there. Making it with ishiru is how Chef Kawashima put his personal touch on it.
Koji Mold-Pickled Turban Shells and Rock Seaweed Tsukudani (Kawashima)
Turban shells pickled in koji mold is a traditional preserved food of Noto. The turban shells are pickled in koji during the summer and then mixed with nori (seaweed) that is hand-picked on handful at a time from the rocks one handful at a time amidst the waves in the danger of Noto's harsh winters.
Potato Chou Salé with Pickled Pufferfish Ovary Cream (Sunayama)
A chou pastry with potato kneaded into it filled with a combination of pickled pufferfish ovary and cream. The topping of unroasted hazelnut shavings gives it a white surface that resembles snow.
Jerusalem Artichoke Croquette (Sunayama)
Jerusalem artichoke puree is mixed with the offal of yellowtail or Spanish mackerel, then covered with the dried skin of the Jerusalem artichoke and made into a fritter. You can enjoy the chewy texture of Jerusalem artichoke, the heat of fritter, the crunch of the offal, and the crispiness of the skin.
Vinegared Dried Burbot and Vegetables (Hamada)
In the fishing town of Uozu, vinegared foods made with fish are often seen on dining tables. This dish is a reconstruction of those foods. Burbot dipped in ishiru and then dried, along with vinegared carrots and celery, are wrapped in peeled daikon radish, and edible flowers from Toyama were also added for some color.
Heike Tofu Monaka (Hamada)
Heike Tofu, tofu marinated in miso, is a distinct part of the food culture of Nanto in Toyama. On top of the Toyama-made monaka wafers is Heike Tofu Paste, pickled red turnip, dried daikon radish strips, Tosa vinegar jelly, and edible flowers.
Bigfin Reef Squid, Pork Back Fat, and Shaved Kelp
Rolled bigfin reef squid meat, thinly sliced lardo di colonnata (cured pork back fat), and shaved kelp all rolled together. The squid is caught off the coast of Noto, the shaved kelp symbolizes the culinary culture of Nanao, a city that prospered from the Kitamae ship trade, and prosciutto ham lard, which is a pork back fat that I often used in my studies of Italian cuisine. I wanted to put these together as one and create a dish that conveys both the regional characteristics of Noto and the uniqueness of Italian cuisine.
Widgeon Stew Tartlet (Hirata)
Widgeon is cooked in a stew style with a ragout sauce and placed upon a tartlet crust. The offal was also used, and cooked sweet and spicy with locally produced soy sauce and rice syrup to resemble the peverada sauce of Venetian cuisine.
■Pairing
A) ESHIKOTO AWA 2018 (Kokuryu Sake Brewing, Fukui)
ESHIKOTO is a new brand born from Ishidaya, a high-level brand of Kokuryu Sake Brewing. In the same method that is used for Champagne method, it undergoes secondary fermentation in the bottle for at least 15 months, and after careful handcrafting, it is shipped after 10 months of maturation. It has fine and beautiful bubbles and a delicate, dry taste. This is sparkling sake at its highest peak.
N) Kanazawa Basil & Uozu Kasumi Apple Beer
Basil harvested from my own vegetable garden is distilled, and the aroma and bitterness are extracted at Les Tonnelles. The basil is grown in an open-air environment and has an aroma and bitterness that are so strong that it resembles like beer; it was something I had never experienced before. The acidity and sweetness of Uozu-grown Kasumi apples were added in consideration of compatibility with the food.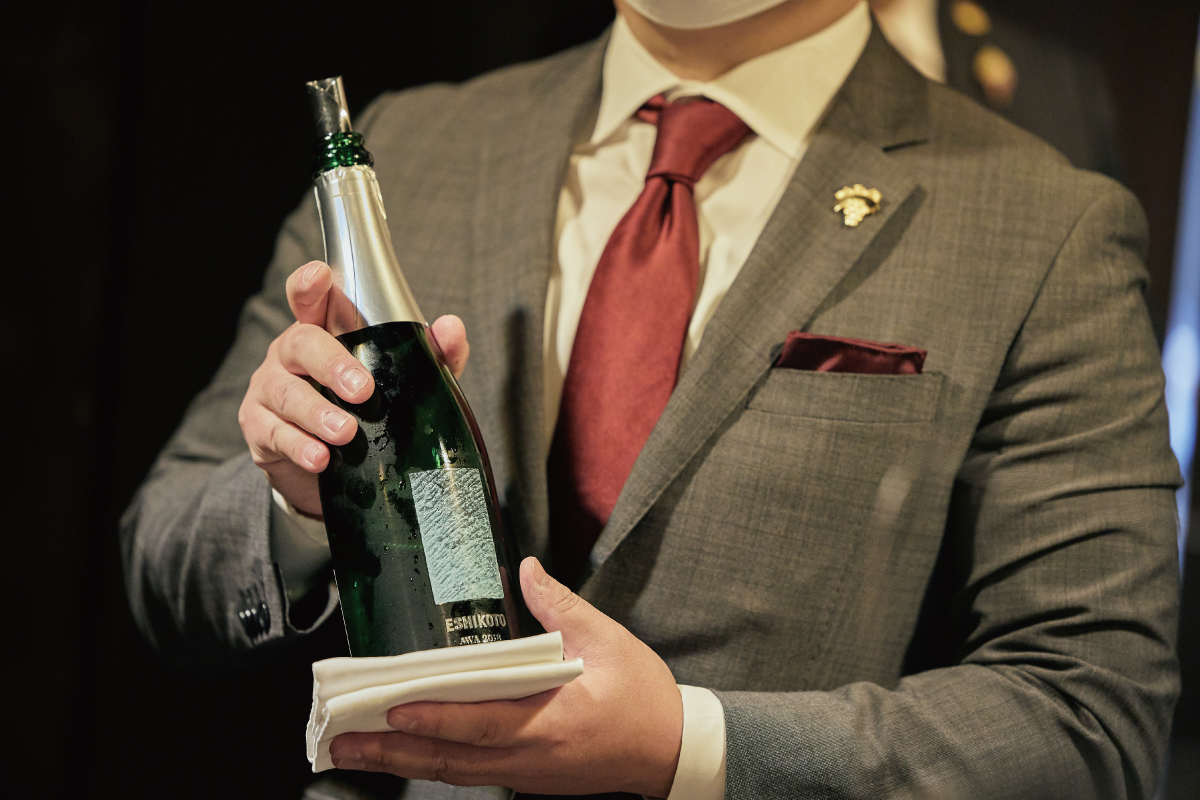 [2nd Dish] Soup (Kawashima)
Arrowroot Tofu with Sawano Burdock, Tilefish, Carrot Strips, Young Greens, Matsuba Yuzu, and Gold Leaf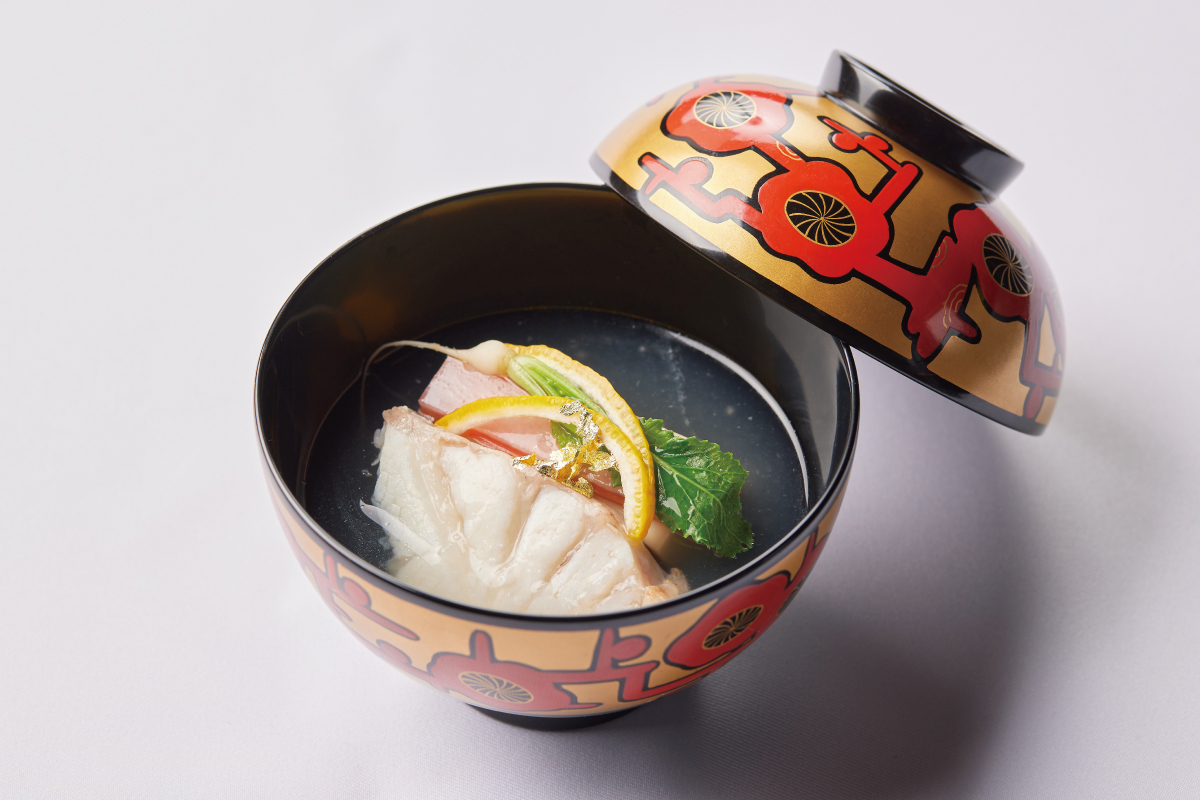 This soup was created to resemble Kaga Hyakumangoku Kenrokuen, taking inspiration from what I learned from Aenokoto. For Aenokoto, using ingredients both from the sea and the mountains is a must. For this, I used tofu (soybeans), sea bream (tilefish), carrots, turnips (daikon), and other root vegetables.
I'd like you to take particular notice of the Sawano Burdock, which is a traditional food of Nanao. It was presented as an offering to the Maeda Domain, but it is now a nearly extinct vegetable. It is said to have been a favorite food of Toshiie Maeda, lord of the Kaga Domain in Kenrokuen, the setting for this event.
For today's event, high-quality longtooth grouper was the proper fish, along with auspicious red Kintoki carrots, young greens, and gold leaf. This soup will give you a taste of Aenokoto and the history and culture of Kaga Hyakumangoku.
■Pairing
A) Noguchi Naohiko Sake Institute, Japan Cultural Expo Exclusive Version (Noguchi Naohiko Sake Institute, Ishikawa)
Naohiko Noguchi could be considered the deity of Japanese sake. Mr. Noguchi himself bottled this divine sake for the event. The intricate flavor of dashi, the gem of Japanese cuisine, paired with this special sake brewed by a sake master. It is truly a moment of Kuchifuku (bliss on the palate).
N) Black Tea Fermented with Melted Snow from the Tateyama Mountains and Water from Wakasa Uriwari
Chef Kawashima uses cold water from Fujise in Ishikawa Prefecture for his soup. And, Grace Piece, a brand of black tea from Toyama Prefecture, uses Hyojunsui, which is water made from melted snow from the Tateyama Mountains, frozen like bamboo shoots in a cave in Kurobe Gorge. The water is then fermented again to enhance the taste and aroma of the tea leaves. After that, the tea is diluted with water from the famous Uriwari Falls in Wakasa Town, Fukui Prefecture. This pairing will allow you to sample the famous waters of each of the three Hokuriku prefectures.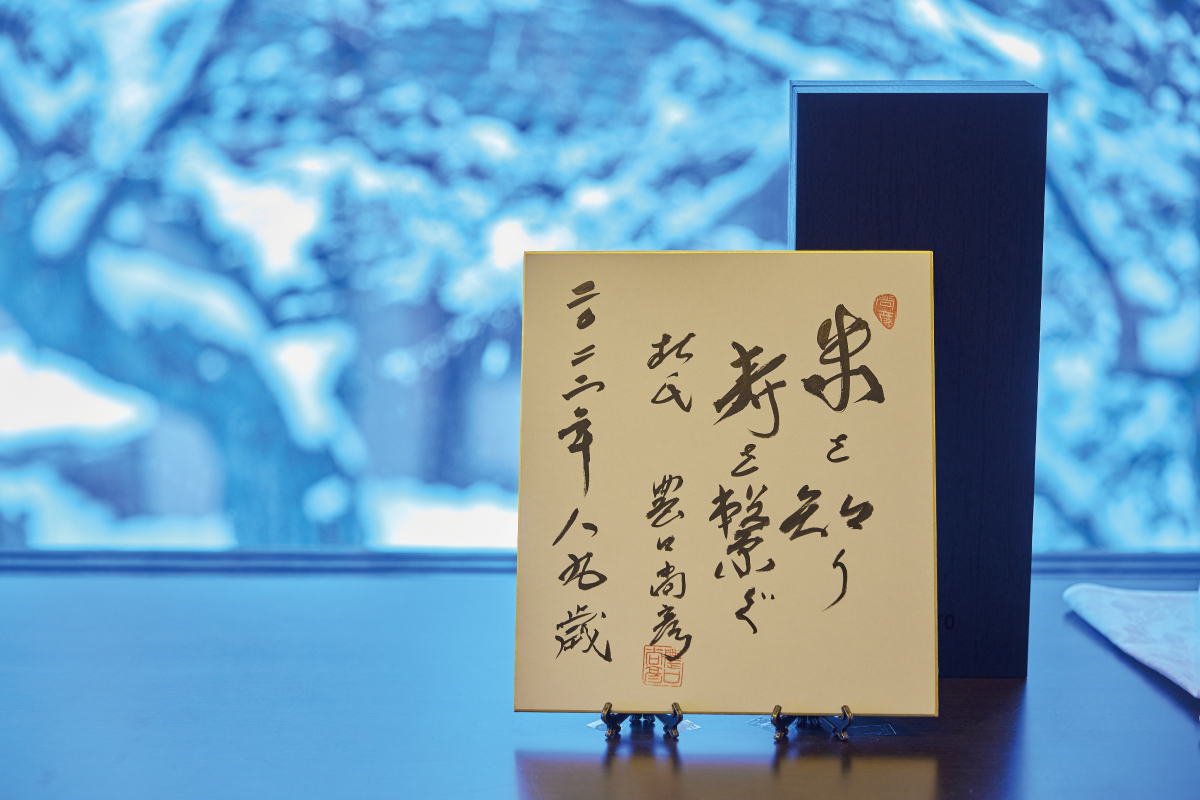 [3rd Dish] Sashimi (Kawashima)
Yellowtail & Daikon Radish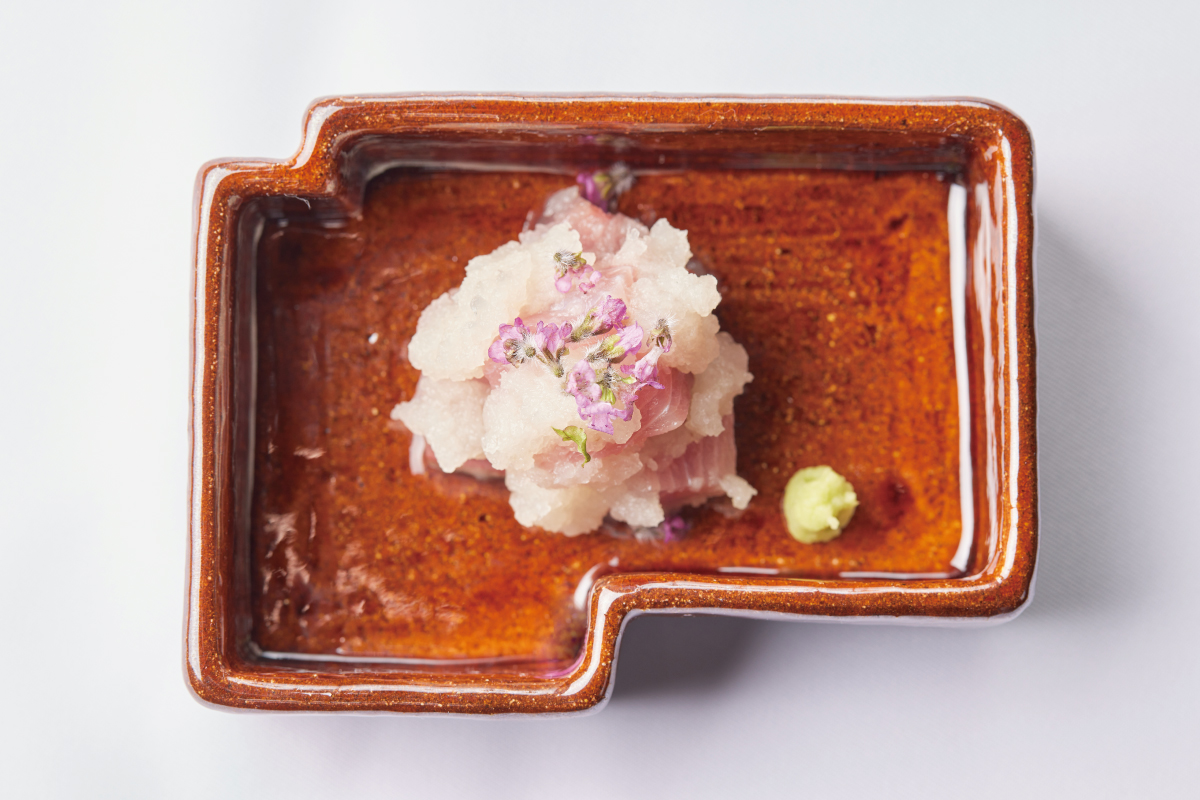 This is an arrangement of yellowtail and daikon radish, an essential winter dish in Hokuriku. Straw-grilled yellowtail with generous amounts of grated daikon radish. The fatty yellowtail is grilled with straw to give it a rustic flavor, and it is served with grated daikon radish for a refreshing taste. The yellowtail is exclusively from the Hinode Oshiki fixed-net fishery
■Pairing
A) Masuizumi Ichigo Shibori 2021 (Masuda Sake Brewery, Toyama) 
Ryuichiro Masuda (5th generation) proposed that this sake be served on the rocks, making it palatable even for those that don't drink sake. The slight cloudiness of the sake and the sasanqua enveloped in ice are reminiscent of the winter in Hokuriku. The strong lactic acidity characteristic of this nigorizake (cloudy sake) is a perfect match for the fatty qualities of the cold-season yellowtail.
B) Fermented Water from Hokuriku Ingredients and Noto Salt
Water kefir made with Hokuriku pears, apples, and herbs, with boiled-down white wine from Wajima to add acidity and astringency. For a finishing touch, a piece of Kirara, a crystal from the Okunoto Agehama salt fields, is added.
After enjoying the aroma of the daikon radish served with the sashimi and the fermented water, the salt crystals gradually dissolve, making the water resemble that of the Noto's seawater of Noto, allowing you to imagine the taste of the seas of Noto. This pairing lets you savor the blessings of both the sea and land of Hokuriku.
[4th Dish] Steamed Food (Hamada)
Japanese Ivy Shell with Bran-Pickled Fish Foam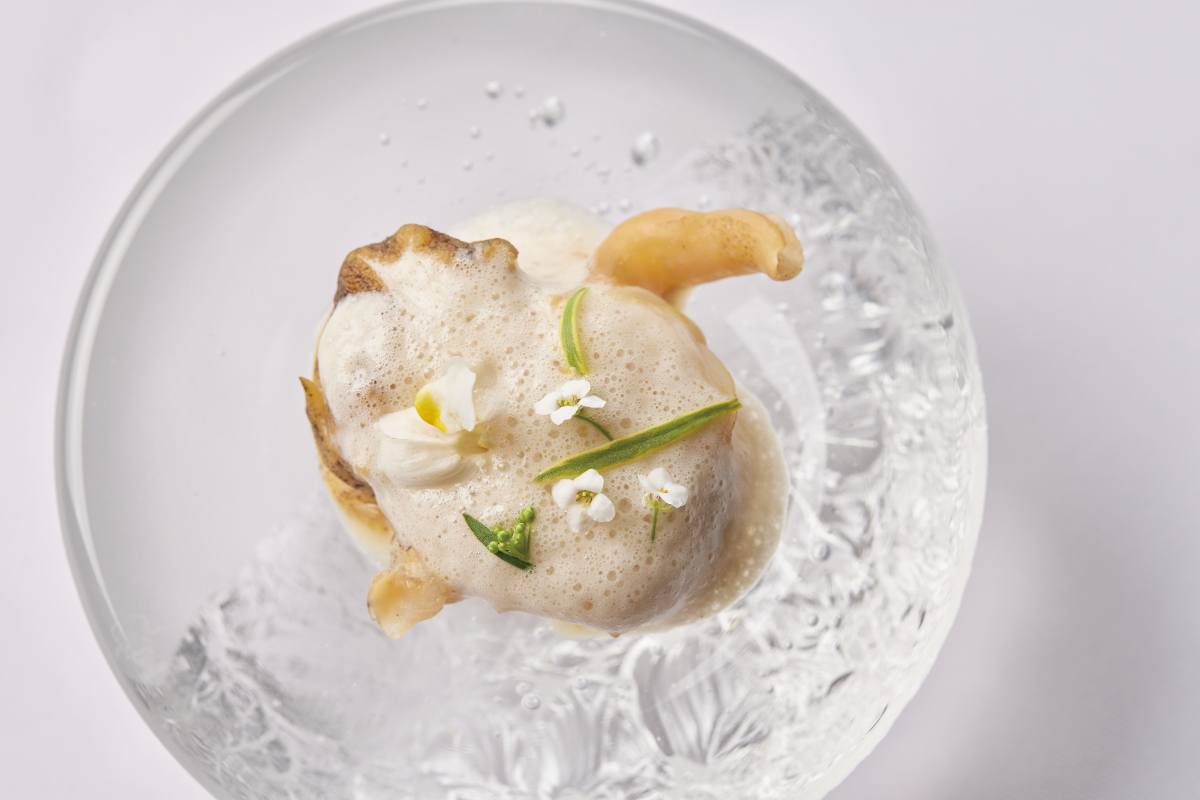 Toyama has a culture of using kelp in its cuisine, one dish being Konbuyaki, which is ingredients wrapped in kelp and then grilled. My proposal for this dish was an arrangement based on this use of kelp. Japanese ivy shell is wrapped in kelp, steamed at a low temperature, heated, and then wrapped in kelp again and grilled.
 The foam that goes on top of it is made from soup stock made from local chickens that no longer lay eggs, with added kaffir lime leaves, and lemongrass. As a finishing touch, I took the bran that was used in the pickling process and usually discarded and cooked it, added soy milk, salt, and yellowtail fish sauce to taste, and foamed it up.
■Pairing
A) Bocchi Blanc 2020
This wine is a blend of several varieties of grapes grown at Vin de la bocchi, including Sauvignon Blanc and Petit Manseng. Its refreshing aroma has notes of pears, lemons in syrup, and sweet herbs. The sweet fruitiness of pears, clear acidity reminiscent of quince, and a hint of iron create a tight wine quality.
The alcohol content is low, but the extracts are fairly rich, and the multi-layered flavors that only a blend can bring out in turn leave you with a feeling that you will never tire of this wine.
B) Gin & Tonic with the Aroma of the Forests of Hokuriku
Toyama Prefecture is blessed with a rich natural environment, from the 3,000-meter-high peaks of the Northern Alps to the waters of Toyama Bay more than 1,000 meters deep, offering a topography with more than 4,000 meters in height. Toyama Bay, Nanao Bay, and the Hokuriku Sea are connected through water. From the sea to the sky, the sky to the forest, the forest to the rivers, and the rivers back to the sea, water connects them all and provides abundant blessings. Recognizing the importance of its richness and aroma, I envisioned a non-alcoholic gin and tonic using Ishikawa-grown white pine and kuromoji. This pairing is born of the connection between forests and sea.
[5th Dish] Fish (Hirata)
Spanish Mackerel & Nototemari Mushrooms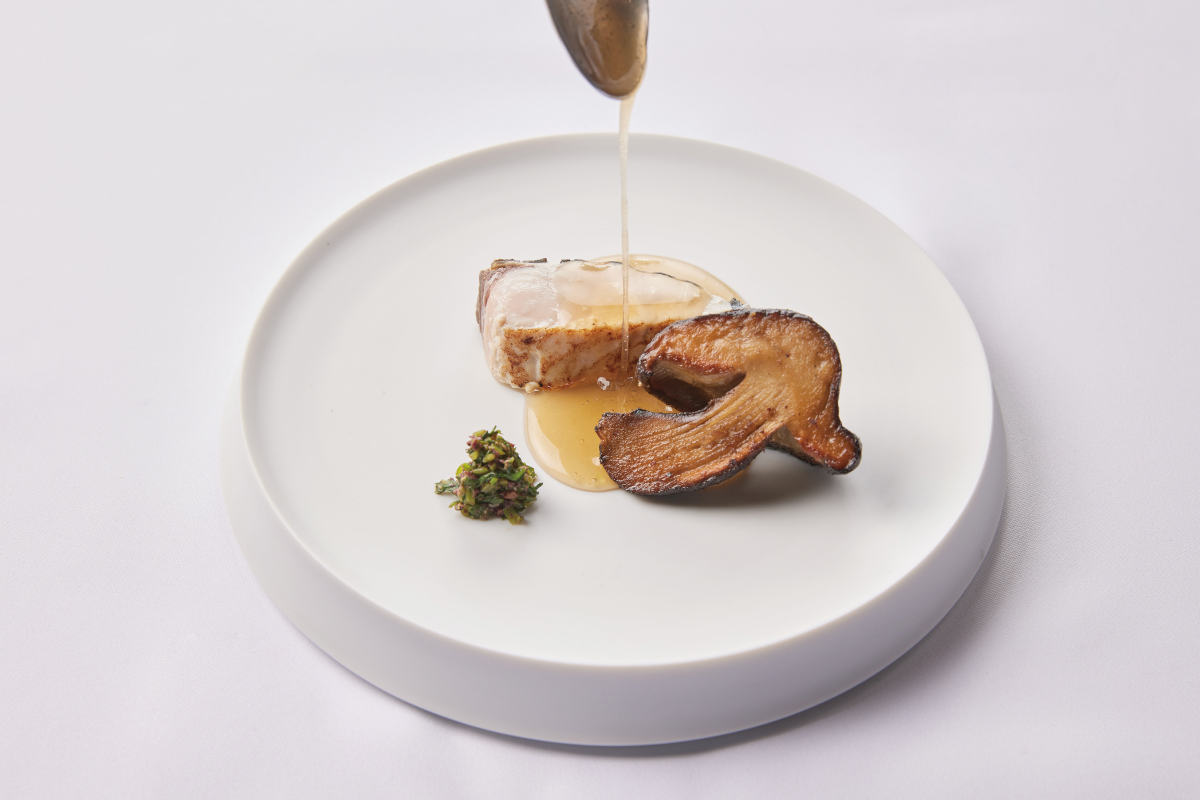 Spanish mackerel purchased from the Hinode Oshiki fixed-net fishery in Noto Town's Ukawa district and Nototemari mushrooms, Noto's unique variety of shiitake.
Hinode Oshiki voluntarily suspends their fishing activities from August to November in order to protect marine resources. To compensate for this, the company is building a freezing facility that will allow them to export to overseas markets throughout the year, and is working to increase the value-added and unit price of fish by removing blood and tightening nerves on board their ships. For this dish, I let the Spanish mackerel, which had its nerves tightened but not had its blood removed, sit for two days and then dehydrated it for three hours before grilling it over charcoal.
Nototemari, a brand of shiitake mushroom from Okunoto, is a log-grown mushroom with a cap size of at least 8cm and a thickness of at least 3cm. They are made into a confit with duck or turkey fat and then also grilled over charcoal. Even the pebbled and misshapen ones are used to their full potential.
When it comes to Aenokoto, both the bounties of Noto's mountains and seas are on the table. Keeping that in mind, I wanted to create a dish that paid homage to the offerings of the sea and the bounty of nature from the mountains.
Also, in Nakanoto Town, there is a culture of brewing and serving a traditional home-brewed sake called doburokuduring Shinto rituals. Thinking about the balance of the courses, I wondered if I could use doburoku to marinate the Spanish mackerel and incorporate just its flavor. The aroma of the shiitake mushroom confit and the doburoku go quite well together.
■Pairing
A) Says Farm Private Reserve Chardonnay 2018
A flagship wine made with Chardonnay grapes from one of the best plots in the vineyards of Toyama winery Says Farm. It boasts a complex blend of intense aromas such as yellow peach, lemon candy, vanilla, and coconut. It has a mouthfeel that lets you feel the volume of the fruit, but there is also a good amount of tension due to its substantial acidity, moderate alcohol content, and salinity. The aftertaste is long and full, lingering with an abundance of sweet elements from the barrel aging, together with complex elements.
The summer of 2018 was hot and had little rain, causing the grapes used to make this Chardonnay in this section to suffer from excessive water stress. This is likely why the wine has such a rich flavor derived from the skin.
B) Italian Winter Truffles & Kaga Roasted Green Tea
The idea of "truffle tea" came from the simple miso soup made with shiitake mushrooms that is commonly drunk in Noto. Chef Hirata expresses Italian cuisine in Ishikawa Prefecture, so this was made under the theme of "fusing of Italian and Ishikawa food cultures".
[6th Dish] Meat (Sunayama)
Bear Hotpot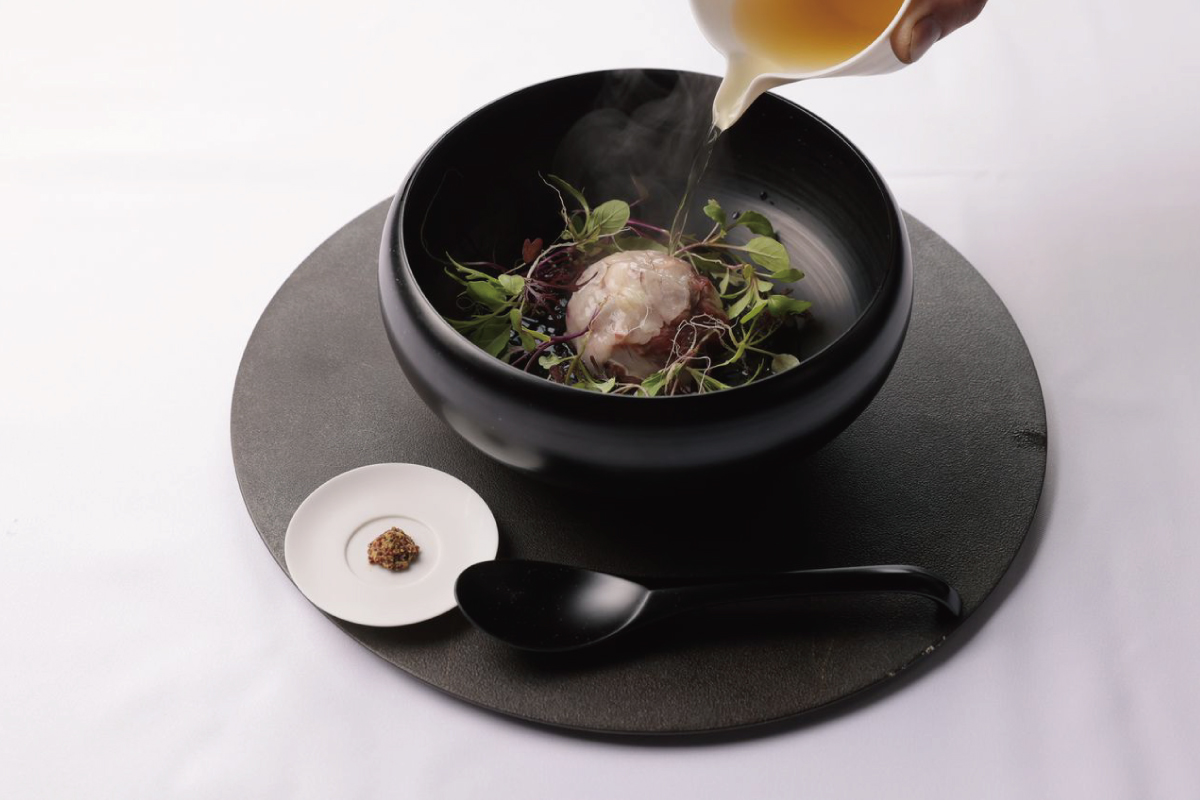 This is a French-style dish based on a hotpot I had with an Aenokoto meal as well as the most moving meal I've had since I came to Kanazawa, a bear hotpot made by a local game hunter. Thinly sliced bear meat is stuffed, paupiette-style, with root vegetables such as Kaga lotus root, taro, and daikon radish. It is garnished with tarragon oil on the bottom and microleaves such as parsley, crown daisy, and mustard greens around it.
To finish, pour hot turkey consommé with bear back fat on top to cook the bear meat. Adding the accompanying mustard gives the dish a different flavor for you to enjoy, just like French home-cooked pot-au-feu.
■Pairing
A) Masuizumi Daiginjo 1998 (Masuda Sake Brewery, Toyama)
Koichi Sanbai is one of the people who, together with Mr. Noguchi, built the "Noto Toji" brand. Virtually everyone who visits Hokuriku yearns to taste the sake brewed by Toji Sanbai and the rich Hokuriku ingredients.
The 1998 vintage is one of the best years for old sake that still remains. Bittersweet and elegant, with notes reminiscent of caramel, the word "graceful" is a fitting descriptor of the flavor that hits your palate.
B) The Fragrance of the Four Seasons of Hokuriku: Honey, Spices, and Yuzu
A hot drink was created around a theme of Hokuriku's four seasons. Spring is represented by acacia honey from Noto and Kaga. For summer, it's honey from Kenrokuen's tori sansho and dogwood. Autumn is represented by fruit from the Hakusan's Amur cork trees, and winter is domestically grown yuzu citrus, also from Hakusan. It was devised based on the scents of Hokuriku plants - flowers in spring and summer, seeds and fruits in autumn and winter, and the pairing of bears and honey.
[7th Dish] Rice
Crab Tower; Sake Lees Soup; Half-Boiled Egg, Beer-Pickled Daikon Radish, and Lightly Pickled Chinese Cabbage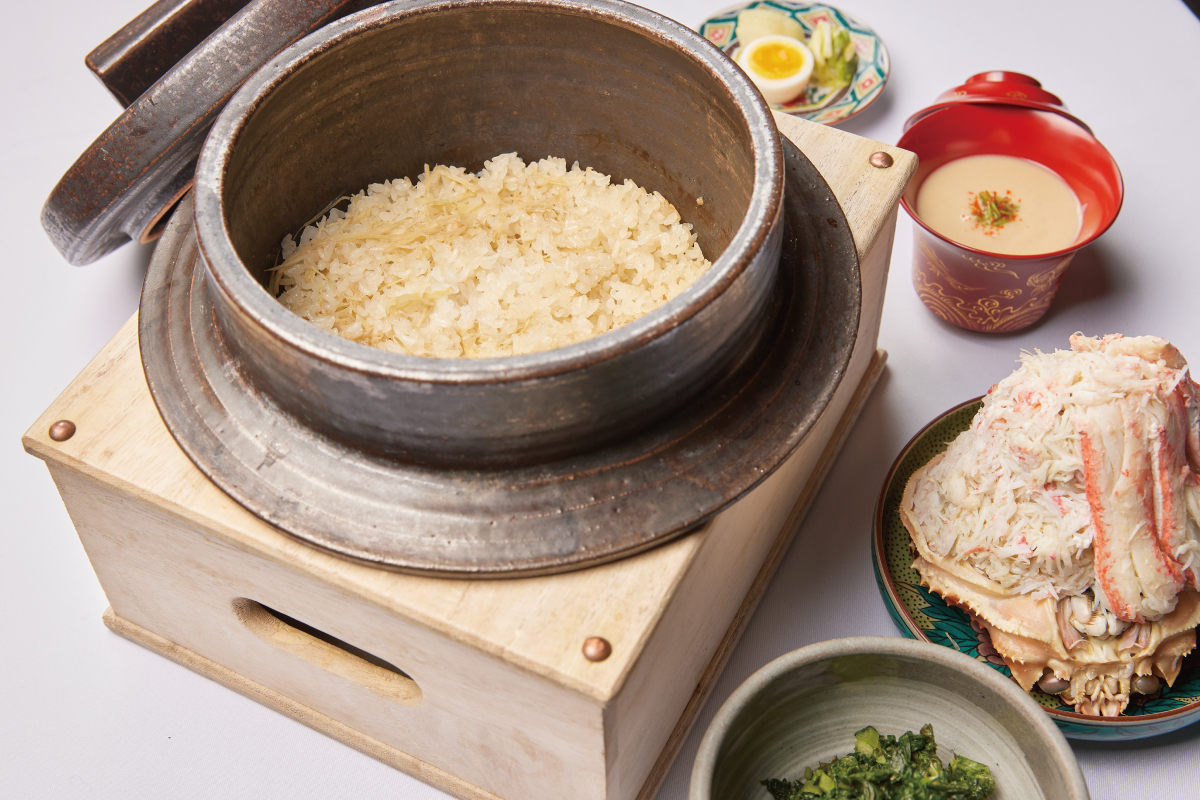 A bold reimagining of a rice dish eaten by crab fishermen in Kawashima's own style. A generous amount of crab is served over freshly cooked rice in an earthenware pot, dressed with a Noto vegetable called Nakajimana pickled with ishiru, and drizzled with Tosa vinegar.
The sake lees soup was made from the scraps of vegetables and other ingredients used in this event. For the sake lees, I used Daiginjo sake from the Noguchi Naohiko Sake Institute.
For the pickles, I prepared a half-boiled egg freshly laid from a Silkie chicken that morning as a nod to the "eggs" that CLUB RED bestows on chefs.
■Pairing
Imperial Offering Kaga Stem Tea
The culture of stem tea has its beginnings in the reuse of resources. Hokuriku's tea culture has created new value by using tea leaf stems that were normally discarded. A new product was made using the first stems of Kaga tea leaves, which was then presented as an offering to the Emperor, giving it a new added value.
[8th Dish] Dessert (Sunayama, Kishimoto)
Rice with Roasted Soybean Flour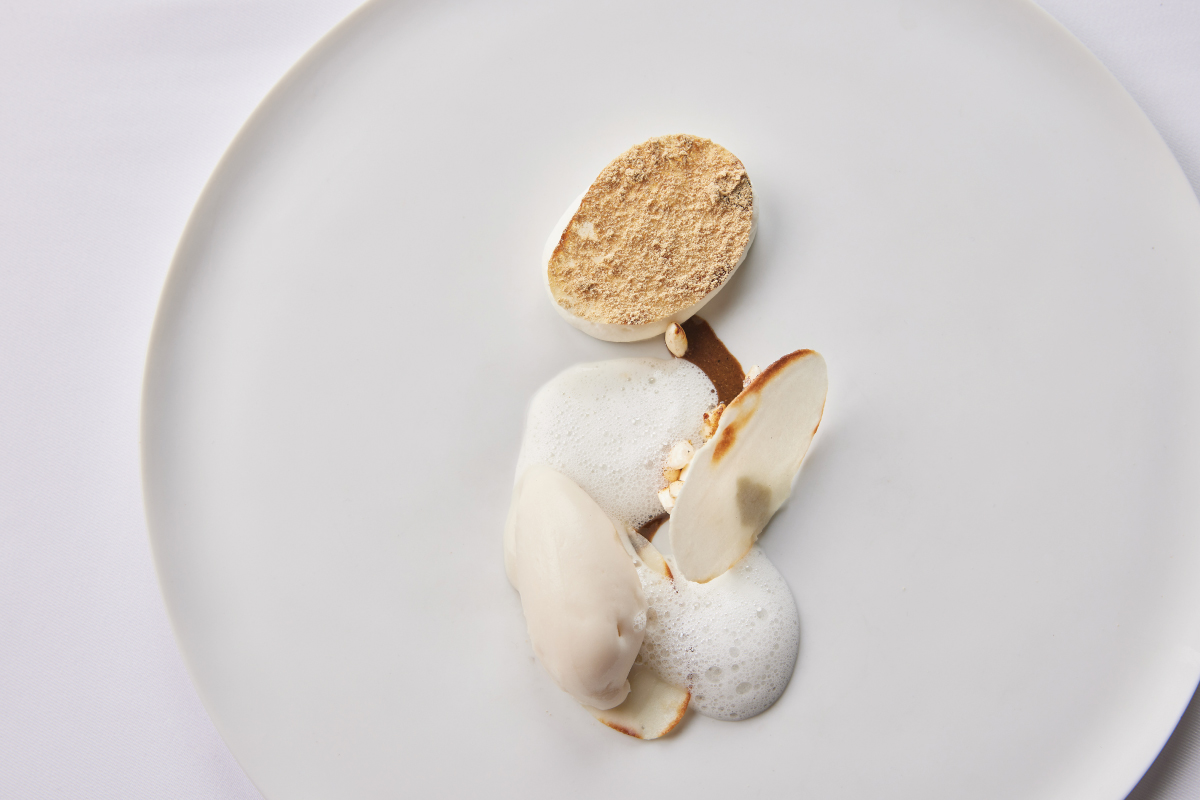 Scorched tea-flavored ice cream, crepes made with glutinous rice flour, pralines mixed with roasted soybean flour, sake lees and coconut cream, amazake and bergamot jelly, bergamot and sake foam, and roasted soybean flour combined with raw sugar.
This dessert was inspired by the way rice is milled, using a combination of rice and raw rice products processed into various states.
■Pairing
A) Masuizumi Kijoshu (Masuda Sake Brewery, Toyama)
Kijoshu is created using a unique method that uses finished sake as a raw material, which serves as a substitute where water would normally be used.
Although other breweries have also released kijoshu, Masuizumi's kijoshu has a crisp taste and is soft on the palate, with an elegant sweetness reminiscent of fine honey, and a long, sweet and sour aftertaste that lingers in your mouth.
B) Fukui Prefecture Soybean Tea and Ishikawa Prefecture Rice
As a complement to the rice- and soybean-based desserts, I combined soybean tea from Fukui Prefecture and rice from Ishikawa Prefecture. I thought this beverage as a new way to connect tea from Fukui to the future.
[Matcha Tea & Tea Snacks] (Sunayama, Kishimoto)
Mignardises Kintsuba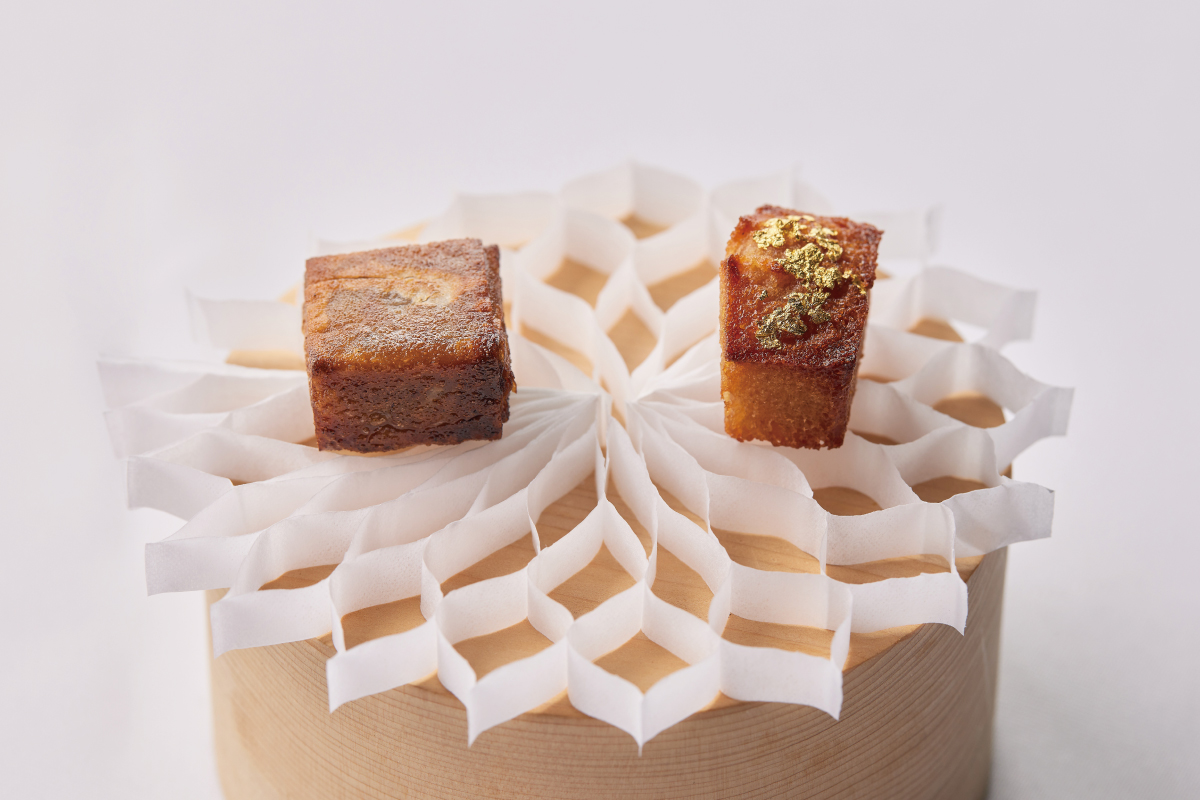 This after-dinner baked pastry is made with cinnamon and brandy-infused sweet bean paste wrapped in pâte phyllo and sautéed in butter.
Bancha Tea Financiers
 Financiers flavored with Kaga Bocha tea. Gold leaf from Hakuichi was added to further embody the spirit of Kanazawa.
■Pairing
Matcha Tea
The chefs made a light tea by hand and served it to each of the guests.
The meal was served on dishes made by Wajima lacquerware makers Shoemon Osaki and Akito Akagi, Kutani ware artist Kiyoko Morioka, and Toyama glass artist Manami Sugie, while the pairing drinks were served in various glasses including Toyama glass and glasses made by Kanazawa gold leaf maker Hakuichi, which structured the courses of the meal in a way that let you feel the beauty of Hokuriku.
The experience of tasting the chefs' heartfelt cooking and drink pairings in the sophisticated setting of Kenjotei with beautiful Japanese dishes will be forever etched in the memories of the guests as a very special day.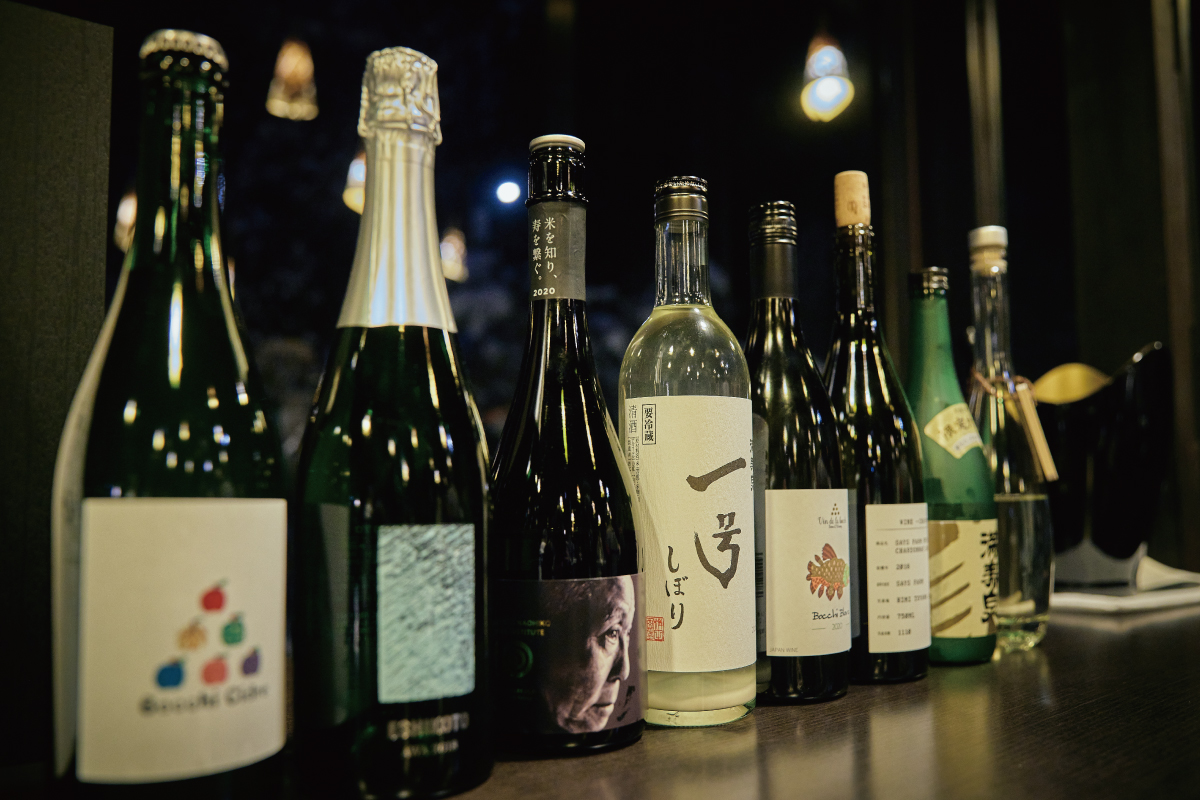 *This event was held with all possible infection control measures in place for staff and visitors.
Japan Cultural Expo x CLUB RED: Traveling Japan by Dining in Hokuriku
Sponsors: Agency for Cultural Affairs, Japan Arts Council, NKB Inc.
Planning & Management: RED U-35 (RYORIN's EMERGING DREAM U-35) Executive Committee, Gurunavi, Inc.
"Japan Cultural Expo x CLUB RED: Traveling Japan by Dining in Hokuriku" was held as part of the Japan Cultural Expo, an experience-based program of exhibitions and stage performances organized by the Agency for Cultural Affairs and the Japan Arts Council.
Japan Cultural Expo is a year-round art project that includes art exhibitions, performing arts performances, and art festivals throughout Japan, under the collective theme of "The Japanese People and Nature", allowing people to experience the beauty of Japan from the Jomon period to the present day. The Agency for Cultural Affairs, Japan Arts Council, relevant government ministries and agencies, cultural facilities across Japan, local governments, private companies and organizations, and others work together to promote the various arts and cultures that each region is proud of, with the aim of creating a better future by transmitting their diverse and universal appeal to Japan and abroad, and passing them on to future generations.
Japan Cultural Expo Official Website: https://japanculturalexpo.bunka.go.jp